September 20, 2011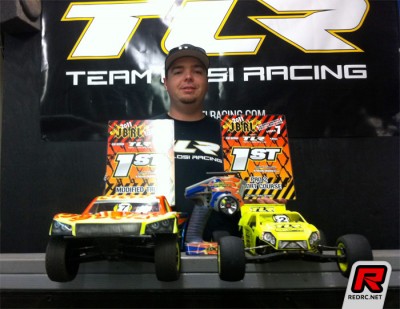 TLR and Losi's Frank Root, Matt Castellano, Ryan Dunford, Keith Whisler, Aaron Lane, and Doug Nielsen attended the penultimate round of the 2011 JBRL Electric Series this past Saturday at OCRC Raceway. The track had great grip, and a fun, technical layout. The entry count was very strong at 195 and a great day of racing was had by all. Frank was on hand to run his brand new TLR 22T for the first time at a JBRL Race, and it did not disappoint. Frank would put down a clean and very quick run in the first round of qualifying, that would not be challenged. After trying some setup changes in round 2, Frank reverted to his Q1 setup for the main event. On the first lap, Frank made a costly error, dropping him back to 5th, but a few quick laps and clean passes quickly got Frank back into the lead where he would remain until the end of the race.
Pro2 (Modified SC) – Frank's Losi XXX-SCT with the TLR Tuned Kit was on point again in qualifying. Frank would run the fastest time in both of the two rounds of qualifying, taking the TQ by over 8 seconds! The single 6-minute main started with a brief challenge from 2nd place, but Frank would soon pull away leaving the rest of the field to battle for 2nd place. Ryan Dunford will come through the field and work his way up to the battle for 2nd, and would eventually take the spot. Ryan was the only driver to finish on the lead lap as Frank ran a very clean main taking his 3rd A-main win this season!
[youtube]http://www.youtube.com/watch?v=BSkO6UtKHF4[/youtube]
Pro Buggy – This was the first ever Pro Buggy race in the history of the JBRL. The Pro Buggy class is a 17.5T, No Timing class racing the all new Losi XXX-SCB Short Course Buggy and other comparable vehicles. The field was 7 buggies strong, and is sure to grow in the future. Mod 2wd point leader, Aaron Lane would have the honors of the first Pro Buggy TQ, taking it in the 2nd round just ahead of Doug Nielsen. Come the main, Aaron has a slight issue, leaving Ryan Dunford and Doug "Casper" Nielsen to battle it out for the win. Doug was a bit faster on the track, but little bobbles prevented him from making a pass on Ryan for the lead. Ryan would stay clean and take the first every Pro Buggy Victory, with Casper in 2nd, and Keith Whisler finishing out the podium.
Source: TLR [tlracing.com]
---