September 19, 2011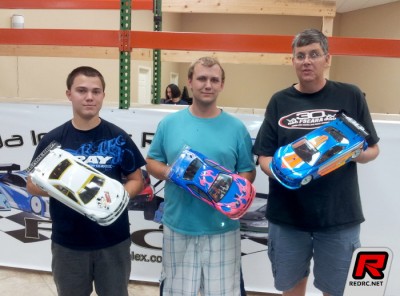 FSEARA (Florida State Electric Auto Racing Association) kicked off their 7 round series at Florida Indoor RC Complex in Plant City, FL. The one day race attracted many on road driver from all over FL to attend this 1st round of the 2011/2012 session. With over 70+ entries, this event showed that on road is still alive in FL. In Open 17.5, the battle from last year continued, the Local driver Austin Harrison using his home track advantage, taking the TQ with a Lap over the field in front of last year's winner Dave Bowser.
In the A main final, the TQ Austin Harrison had a bad start, by the third corner he was down to fifth place. The battle was intense and about a lap later the race leader Dave Bowser made a mistake & broke a steering block. Xray Driver Cory Parson took advantage of the big mess up & took the lead. Associated driver Troy Schaeffer & Tamiya driver Michael Bruce were running consistent laps and by the 4 minute mark both were able to chase down Cory and the 3 drivers started switching position back and forth. Then, out of nowhere, the TQ Austin Harrison passed all three drivers and won the race with about a lap ahead of second.  The final finish order is 1st Austin Harrison, 2nd Cory Parson and 3rd Troy Schaeffer.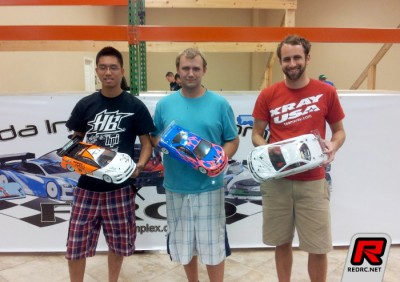 In Open Mod, Austin Harrison continued his perfect weekend with the TQ over Cory Parson & Hobbycrap team driver Felix Law. In the A main, Austin Harrison left the field in the open track, trying to keep his Trinity powered Xray alive & finish the race without problems. The battle is for second, Felix Law qualified 3rd but a problem at the start dropped him to 6th by the 1st lap. With Felix's Hot Bodies TCX, he was able come back to battle with TJ Lathrop & Cory Parson. At the 3 minute mark, Felix was able to get ahead of both Xray drivers for a solid 2nd place finish. Cory had a mechanical problem during the race, & unable to finish the race during the battle with TJ. TJ Lathrop finished 3rd wrapping up the podium. The final Finish Order is 1st Austin Harrison, 2nd Felix Law and 3rd TJ Lathrop.
The perfect weekend for Austin Harrison, special thanks to his dad Ron Harrison for putting a great program, the RD 1 of Fseara series ran smooth thanks to his help. Also, thanks to FSEARA series director Mark Mixon for doing tech for all race, and offer the great trophies for last year's winners.
Source: Hobby Crap [hobbycrap.com]
---