September 13, 2011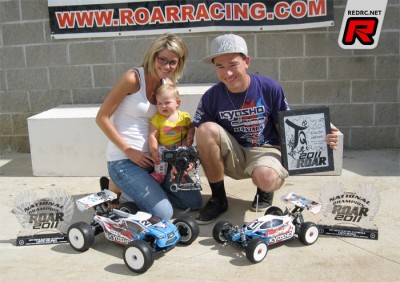 The 2011 ROAR 1/8 Electric Off-Road Nationals were held September 9-11 at The Hobby Plex in Omaha, Nebraska. Team Orion would show up to this years Nationals with their Super Star 1/8 Team. Ryan Cavalieri just coming off his double World Championship Wins in Finland just 1 month ago. Jared Tebo just taking 2 National Championships at the 1/10 ROAR Nationals a few weeks ago. Mike Truhe, defending ROAR 1/8E National Champion. And Cody King, current 1/8 Nitro World Champion.
At this years ROAR 1/8 Nationals the drivers would run 6 rounds of qualifying with their 4 best counting towards the overall qualifying order.
1/8E Buggy
In the 1/8E Buggy Class it was Team Orion/Kyosho Factory Driver Jared Tebo who TQ'ed 4 out of 6 rounds of qualifying to take the overall TQ for the class with a perfect score of 0! Also in the A-Main for Team Orion was Ryan Cavalieri who would start 2nd, Mike Truhe 7th, and Cody King 9th.
In A-Main #1, Tebo got a great jump off the line with his Team Orion powered Kyosho MP9E and began putting in fast laps. After 2:30 into the main, it is Tebo leading Maifield by 2 seconds and Cavalieri running 3rd. At the halfway point in the main, Tebo is still holding a 2 second lead over Maifield while Cavalieri and King are in a good battle for 3rd. With 2:30 left to go Tebo just lays down the fastest lap of the race with a 25.321! Maifield is running in 2nd about 3 seconds back and now Robbers up to 3rd. As the 10-Minute clock expires, its Tebo crossing the finish line 1st to take home A-Main #1, Maifield finishes 2nd, Cavalieri 3rd, King 4th and Truhe 5th. All 4 Team Orion Drivers in the A-Main finishing top 5.
In A-Main #2, it is Ryan Maifield taking the win, Tebo finishes a close 2nd only .5 seconds behind Maifield and Lutz in 3rd. With Tebo and Maifield both finishing 1st and 2nd in both A-Mains so far, the National Championship would come down to the 3rd and final A-Main.
At the start of A-Main #3, Tebo once again gets a great start. Maifield made his way around Cavalieri on the first lap and the tone was set for a great race. 2:30 into the main, Tebo is still leading by 2 seconds now on Maifield, Cavalieri is a few seconds back in 3rd. At the halfway point in the main, Tebo is still containing his lead, Maifield is pushing hard to try and catch up, Hartson is now running 3rd. With 2:30 left in A-Main #3, Tebo now has Maifield right behind him, Hartson still running strong in 3rd. After swapping back and forth for the lead, it is now the last lap and Tebo has Maifield all over him. As they cross the finish line, it is Tebo just edging out Maifield by .1 second for the Win and the National Championship! Cavalieri would make it by Hartson on the last lap to take 3rd.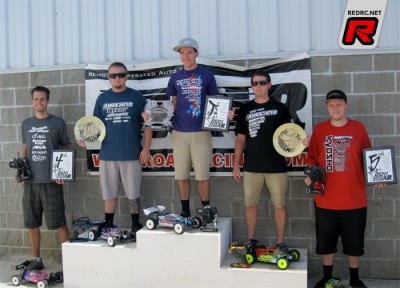 1/8E Buggy Overall Top 10
1. Jared Tebo (TQ) – Team Orion
2. Ryan Maifield
3. Ryan Cavalieri – Team Orion
4. Ryan Lutz
5. Cody King – Team Orion
6. Mike Truhe – Team Orion
7. Jeremy Felles
8. Steven Hartson
9. Austin Blair
10.Jesse Robbers
1/8E Truggy
In the 1/8E Truggy Class, it was a great battle throughout qualifying between Team Orion teammates Mike Truhe and Jared Tebo. Truhe and Tebo both TQ'ed 3 rounds of qualifying each. So the 4th point for each driver would decide the overall TQ for the class. This went to Truhe who had a 2, just edging out Tebo who had a 3. Also in the A-Main for Team Orion was Cody King who would start 5th.
In A-Main #1, Tebo makes his way around Truhe on the first lap, Robbers is in 2nd, Blair 3rd with Truhe down to 6th. After 2:30 into the main, Tebo is stretching out his lead, Blair is now into 2nd and Robbers in 3rd. At the halfway point of the main, Tebo is checked out, Robbers is now back into 2nd and Truhe is putting on a charge moving up to 3rd. 2:30 left in the main, Tebo is on cruise control out front, Robbers is still in 2nd but Truhe is closing the gap. As the checkered flag waves, its Tebo taking the win and the only driver to make it by for the extra lap. Truhe and King both get by Robbers to finish 2nd and 3rd. All 3 Team Orion Drivers finishing Top 3 for A-Main #1
In A-Main #2, Truhe gets a better start and has Tebo right behind him, Robbers is 3rd. After 2:30 into the main, Truhe is still leading but by only .1 second over Tebo. Robbers and King are in a heated battle for 3rd.
At the halfway point of the main, Truhe gets tangled with lap traffic and Tebo makes his way by for the lead. Truhe is now right behind Tebo and Robbers in 3rd. 2:30 left in the main, Tebo now has a big lead on 2nd place Robbers. Truhe is out with what the announcer is saying a stripped spur gear. King now in 3rd. As time runs out in A-Main #2, Tebo crosses the finish line 1st by a comfortable 5 second margin over 2nd place Robbers and King finishes a strong 3rd. Tebo has done it, taking home his 2nd National Championship of the weekend.
In A-Main #3, the battle for the last 2 spots on the podium were still up for grabs. Truhe went on to take the win and King finished 2nd. This giving Truhe 2nd overall and King 3rd overall. Team Orion would sweep the podium with the only 3 drivers they had in this class.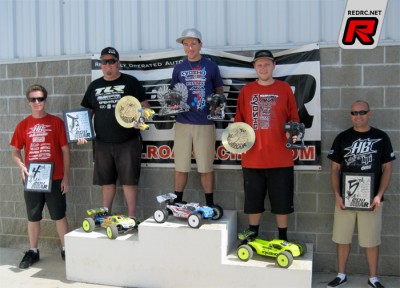 1/8E Truggy Overall Top 10
1. Jared Tebo – Team Orion
2. Mike Truhe (TQ) – Team Orion
3. Cody King – Team Orion
4. Jesse Robbers
5. Josh Alton
6. Jason Hills
7. Ty Campbell
8. Tony Bacon
9. Austin Blair
10.Chico Alvarado
Source: Team Orion [teamorion.com]
---