September 16, 2011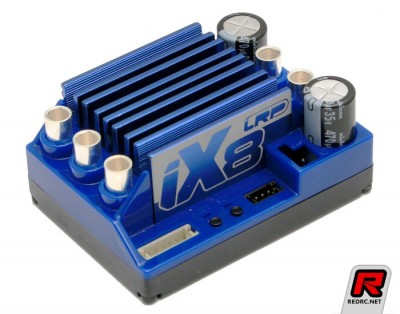 Developed for the higher voltage needed in 1:8 scale vehicles, LRP's first, full-blooded 1:8 brushless speed control, the iX8 is the ideal speed control for both the serious racer and the backyard basher. Protected by a hard case to handle rough and tough conditions, the best in brushless racing technology comes together in this speed control that features pluggable connectors and cooling fan and is suitable for use with 2S to 6S LiPo batteries.
2S-6S LiPo operation
Wide input voltage range (7.4V-22.2V) for versatile use, with a powerful 6A switching BEC
Sensored Design
Sensored technology for high precision and intelligent motor management
USB Software Updatability
Benefit from all the latest performance improvements and updates available at www.LRP.cc!
Special power profiles
Special power profiles for the finest adjustments in all conditions, including all team profiles.
Forward/Brake + Forward/Brake/Reverse
Fully adjustable drive-modes with different brake/reverse adjustments
Revolutionary Internal Temp Check System 3
Allows you to read out the maximum internal temperature of the speed control and motor
100% plug-able connections
No-solder design-maximum convenience. Includes ready-to-use wires for all connections
Cut-off voltage/LVC adjustable

Source: Associated [rc10.com]
---