September 13, 2011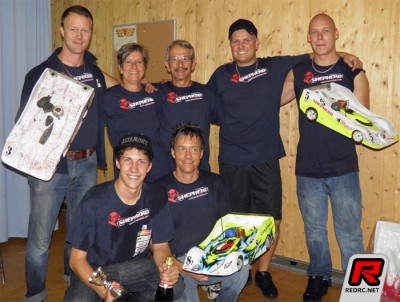 The last round of the Swiss national championship took place one week ago in Langenthal. Before the race three drivers could still win the championship with worlds and euros finalist Simon Kurzbuch having the best chances on his home track followed by Marco Müller and Mattia Pesenti in the ranking list. In Qualifying it was local hero Kurzbuch who dominated his rivals being the only driver clocking 34 laps in 7:10.843 in front of Silvio Hächler (33 laps 7:06.574) and Müller on 3rd place (33 laps 7:10.355). Unfortunately it started to rain during the semifinals and for the rest of the race the track was extremely wet.
In the main final Pesenti was the first championship contender who had to retire because of technical problems. After 27 minuted Kurzbuch was a victim of the bad conditions having to retire after servo failure which caused a big crash at the pitlane entry. Now the way was free for Müller to take the title, as he had only to finish in front of Kurzbuch. Winner of the day was Erol Sehirty finishing 3 laps in front of Müller with double European vice-champion Nydegger being another lap down after both Shepherd drivers struggled with the weather towards the end of the race.
Final result Langethal:
1. Sehirtoy, Erol – 122 laps 45:17.119
2. Müller, Marco – 119 laps 44:39.155 (Shepherd)
3. Nydegger, Jürg – 118 laps 44:48.434 (Shepherd)
4. Henzi, Thomas – 98 laps 44:59.493
5. Bapst, Daniel – 92 laps 44:26.137
6. Kurzbuch, Simon – 71 laps 27:32.671 (Shepherd)
7. Pesenti, Mattia – 26 laps 12:50.097
8. Hächler, Silvio – 0 laps 0:00.000
9. Geisser, Andy – 0 laps 0:00.000 (Shepherd)
10. Henzi, Michael – 0 laps 0:00.000
With this result Marco Müller took over the first position in the national ranking and claims the Swiss 1/8 expert Championship title 2011 with Simon Kurzbuch is the vice-champion as well as the Swiss Junior Champion. Mattia Pesenti finishes the season in third position followed by Nydegger in fourth place.
Source: Shepherd [team-shepherd.com]
---