September 6, 2011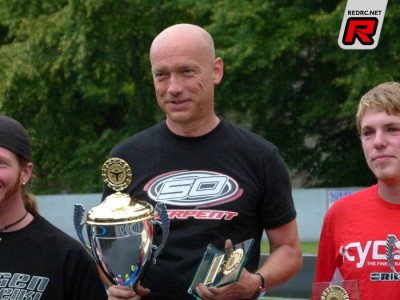 A brilliant anniversary for Michael Salven: On Saturday he celebrated his birthday and became 50 years old. With third position in qualifying just 4/10 of a second behind European Champion Robert Pietsch "Mr. Serpent" showed that he hasn't lost any of his speed. And Sunday even turned for the better: In the 45 minutes final under difficult conditions Salven made himself his own birthday present and captured the title of German Champion nitro 1/10 scale. It is not only another title for Michael Salven, it is a special one because exactly 28 years ago (1983) he celebrated his first German title on the same track of the MSC Kirchhain, located 100 kilometre in the north of Frankfurt/Main.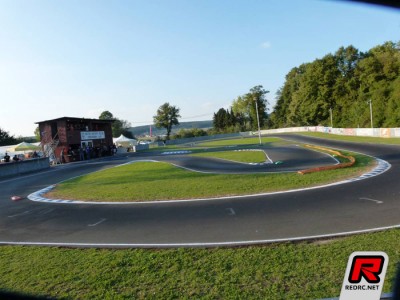 A total of 72 racers joined the one-event German Nationals at Kirchhain and the local club made it a happening to enjoy over the four days: nice track, good grip, perfect organisation, precise technical control, no group changes, no transmitter impound, no tickets, good food, good atmosphere – that´s the way it should be. Even the weather was excellent for three days, unfortunately not at the end.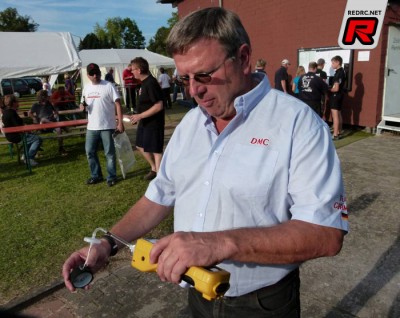 Very positive to remark is that the German association DMC has made a huge step to fight against tyre treatment. They have bought a special measuring instrument in the latest version and also undertaken an on-the-job training by an expert as well as lots of tests. DMC president Fredy Dietrich himself handled the tyre inspection for the whole event and did random testing in the preparation zone before each heat. This procedure resulted in a fair racing and loose talk about cheating has obviously stopped. No tyres were found illegal but in demonstration checks everybody could see the difference between "clean" tyres and treated tyres.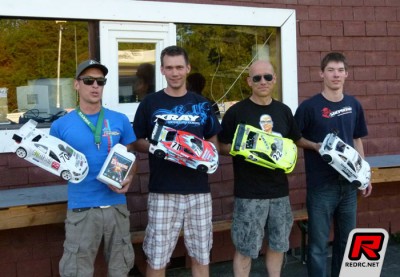 Following 14 rounds of practice five rounds of five minutes heats were raced on Saturday for qualification. While European Champion Robert Pietsch with his new Mugen MTX5 and his main rival Dirk Wischnewski with his Xray NT1 had been a class of their own during practice, the differences between the racers where much closer during qualification because saving fuel to make it over the five minutes had priority instead of pushing to the limit. Finally three drivers were really close just divided by 4/10 of a second. In round four Robert Pietsch did 23 laps on the 220 metre track in 5.09,298 minutes to take first spot. But in the final round not only Dirk Wischnewski but also Michael Salven were really close to beat Pietsch. Wischnewski did 23 laps in 5.09,482 and Salven 23 laps in 5.09,699. With European B Champion Patrick Naehr (23/5.11,692) on fourth place it were four chassis brands on the top 4 positions: Mugen, Xray, Serpent and Shepherd.
The Top 10 after the heats:
1. Robert Pietsch, Mugen/Novarossi – 23 laps / 5.09,298 minutes
2. Dirk Wischnewski, Xray/Orcan – 23 / 5.09,482
3. Michael Salven, Serpent/Xceed – 23 / 5.09,699
4. Patrick Naehr, Shepherd/Novarossi – 23 / 5.11,692
5. Simon Balk, Xray/Orcan – 23 / 5.12,059
6. Rico Kroeber, Xray/Orcan – 23 / 5.12,476
7. Patrick Gassauer, Shepherd/Novarossi – 22 / 5.00,459
8. Dominic Greiner, Kyosho/Team Orion – 22 / 5.00,486
9. Kai-Oliver Guttschau, Mugen/Orcan – 22/5.00,927
10.Sebastian Kunz, Shepherd/Novarossi – 22/01,419
Following rain showers in the early morning, racing on Sunday started with the lower finals on a wet but drying track. Different to the new EFRA system also in Germany there are no direct qualifiers any more but from each sub-final the top 5 racers bump up to the next round. In the quarterfinal B Patrick Schaefer (Shepherd), who had a strong practice but bad qualifying performance and had to start from the 1/16th final, as well as Daniel Thiele (Serpent), Carsten Steinhaeuser (Xray) and Philipp Krause (Xray), which came from 1/8th final, were able to step up once again alongside Andreas Weyhoven (Xray). From quarterfinal A Toni Gruber (Serpent), Rene Puepke (Serpent), coming from 1/8th final, Mirco Thalheimer (Mugen), Thomas Guensel (Capricorn) and Holger Kraft (Xray), who also started in 1/8th, took position one to five to move up to the semi final.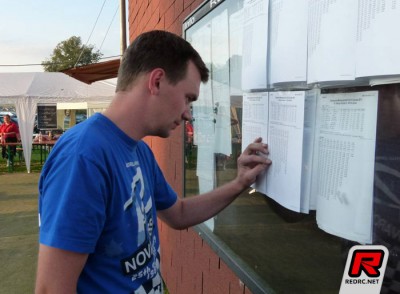 Semi final B showed excellent racing on a dry track. Dirk Wischnewski had everything under control and won with a four-lap advantage after 30 minutes in front of Patrick Schaefer. Patrick Naehr came on third ahead of Dominic Greiner and Philipp Krause. When semi final A was ready to start the rain came back. Only eight drivers took the challenge, Guensel and Kraft didn´t made it to the start. Pietsch had to retire after five laps, and both Salven and Gassauer after only eight laps. Mirco Thalheimer won the race with 74 laps with an incredible advantage of 39 laps over Toni Gruber with René Puepke on fourth and Simon Balk on fifth. Later the tank of Gruber´s Serpent 733 was found to be too big and he was disqualified which gave six-placed Salven the entry to the final.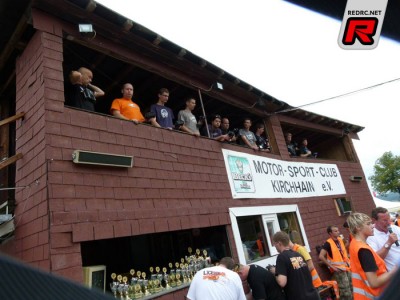 After some discussions around the tank capacity issue of Toni Gruber and the usual break before the final the track was dry again and everything was ready for a great competition for the title. Wischnewski took an early lead and pulled away from the rest of the field. Dominic Greiner was on second for most of the time ahead of Patrick Naehr. Patrick Schaefer was fourth at the beginning, later Simon Balk was on fourth. But at around halftime a few rain drops came down and cars started to spin more and more while the rain increased heavily. In lap 85 Michael Salven, running on eighth position for most of the time was the first one to change on rain tyres with all others pitting a few laps later. Salven immediately started to catch up position by position. Wischnewski was able to stay in front until lap 113 when he had to retire with engine and servo troubles. Greiner was in the lead for only one lap because his engine wasn't running properly any more. It was Michael Salven who stormed to first position in lap 115 with his Xceed ZS engine running smoothly until the end. So finally "Mr. Serpent" won race and title with a nine-lap advantage over Kai-Oliver Guttschau and his oldie but goodie Mugen MTX4-R and Greiner who never gave up with his engine troubles and came on third another five laps down.
The Top 10 of the German Championship nitro 1/10 scale 2011:
1. Michael Salven, Serpent/Xceed – 142 laps
2. Kai-Oliver Guttschau, Mugen/Orcan – 133
3. Dominic Greiner, Kyosho/Team Orion – 128
4. Simon Balk, Xray/Orcan – 122
5. Mirco Thalheimer, Mugen/LRP – 118
6. Patrick Schaefer, Shepherd/Novarossi – 117
7. René Puepke, Serpent/Xceed – 117
8. Dirk Wischnewski, Xray/Orcan – 113
9. Philipp Krause, Xray/Orcan – 104
10.Patrick Naehr, Shepherd/Novarossi – 98
Statistics: In the final three Xray were joined by two each Serpent, Mugen (MRX4-R) and Shepherd as well a one Kyosho. On engines it was four Orcan GT3, two each Xceed and Novarossi and one each Team Orion and LRP.
Michael Salven also became German Champion 40+ ahead of Andreas Weyhoven and Holger Kraft. Toni Gruber was awarded as best youngster ahead of Florian Mueller and Dominik Mayer. And Jakub Rozycki was best junior racer in front of Tim Abendroh and Dominik Zeidler.
Only four days after this event the nitro racers will meet again for the 1/8 scale German Championship which will be held from 08-11 September at the Rhein-Ahr-Motodrom in Bad Breisig 25 kilometre in the south of the former capital Bonn on the river Rhein.
Image Gallery
Source: Nitro West [nitro-west.de]
---