September 7, 2011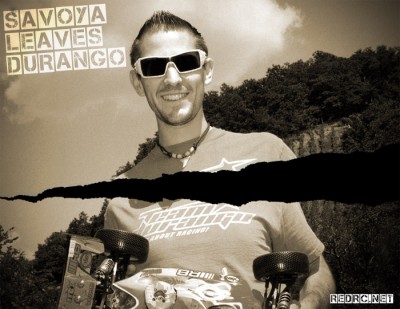 Three time European Champion Renaud Savoya has confirmed to us his departure from Team Durango in an exclusive interview with Red RC today. The French man joined the team at the end of last year following 3 ultra successful seasons with Mugen. Having announced his move to the US late last year where he was expected to be a strong contender, he struggled to find pace with the car all season and this continued to his domestic series where he could only net himself a handful of podiums. Last month a below par showing at the European Championships in Germany where as reigning 3 time champion he failed to make the final for the first time further highlighted the 'Shark's' struggle to adapt to the car. Talking to Renaud at this race you could tell that he was looking for change and so with today's confirmation he has left the team he joined just 9 months ago.
Q. Can you confirm your departure from Team Durango.
A. Yes, as September 1st, I'm not part of Team Durango anymore, on good terms and by mutual agreement.
Q. Can you explain the reasons behind your decision to leave the team?
A. Since the beginning of the season, I was not really trustful in my driving with the car. There was something wrong with me driving it. For me, more than anything, the most important is to take pleasure on the track and of course, to win. It doesn't mean the car is wrong, proved by the good results of the team since the car was released, just that the car wasn't made for me.
Q. Was your under par performance at this years' Euros the breaking point or was the decision made prior to this?
A. Before the Euros, it wasn't really clear enough in my mind to see thru the cloud. But the poor week that I had at the Euros cleared my mind and made me took a decision for the future. It's always very disappointing to be Euros champ' 3 times in a row and not even accessing to the main… With this objective in mind, I went back to prospection.
Q. You were with Durango for less than a year, do you feel you gave it enough time?
A. When you are a Pro and you have such a motivation to move forward, it's impossible to stay on the sofa and wait! I went to the track nearly everyday since January to test and develop, so yes, I think I spent enough time. I'm sure Team Durango will be a strong company in the future, and I really wish them the best, but I couldn't race at this level for a long time.
Q. You were trackside when we contacted you, are you evaluating some potential new drives or has the decision on your new team already been made?
A. The decision is already made. I was under discussion with many brands for a long time, and only one managed to get my attention for at least 4 years. I'm already practicing with my new car, and I will attend several events with it in the season closure. I'm really happy and fully motivated to bring my knowledge and experience to this company, who are devoted to racing, and they make it good!
See you trackside. Best wishes to all Red RC readers.
---