September 10, 2011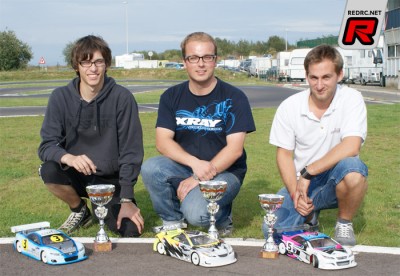 Last weekend was the final round of the Belgian electric Touring car championships held at the lovely track of MRCL next to the airport of Bierset. On Saturday's practice day it was beautiful weather, 30 degrees and more and everybody was trying hard to find the best setup. But on Sunday it was raining cats and dogs and it was not looking good for the rest of the day. The EFRA guys were still fast on the slippery track with all the water. Thomas Stockman wanted to win a race this year and this was his last chance. Thomas was going fast and took the pole in front of Nick Joosens and surprising Jonathan Prouvosq as third. Rico Claeys took fourth in front of Manuel Henriet.
For the finals the clouds were gone and a little sunshine came through. Thomas Stockman took a splendid start and was gone. A battle for second place was between four drivers Nick Joosens, Jonathan Prouvosq, Manuel Henriet and Olivier Bultynck who were swapping position all race. With the track still a little wet was it slippery in the corners. Jonathan was fighting like a lion for his second place but Manuel and Olivier were pushing hard. Also Nick was close. Manuel overtook Jonathan and Olivier took the other side to take third place. Jonathan was now fourth and saw his friend Nick coming. But Jonathan managed to stay in front of Nick.
For Thomas the only goal in the second final was first place. Thomas went away from the start but Nick and Manuel tried to follow. Thomas was really the best on this track and took the win. Manuel overtook Nick and Rico came in fourth. Thomas didn't start in the third final and so was Nick on first place. A mega crash in the corner before the straight and Olivier who started from ninth was now in second place. Olivier did everything to come near to Nick but Nick wanted this win. So Nick came in first in front of Olivier and Nicolas Delise as happy third. Final Result: Thomas Stockman (Xray) overall winner, Nick Joosens (Yokomo) second and Manuel Henriet (Schumacher) third place.
Read the full report here.
---