September 20, 2011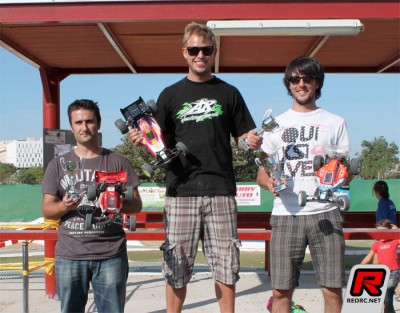 The fourth and final round of the Andalusian (Spanish south region) electric 2WD buggy regional series was hosted this past weekend by the Club Deportivo Radio Control Jerez, some 10 minutes from the center of Jerez. This was the inaugural race for the club's great newly built facilities which hosts three different top notch tracks (offroad, onroad and mini-z). The race saw a record attendance with no less than 57 drivers signing up for the highly anticipate race. Ansmann Racing factory driver, Zacarias Villalba dominated the race with his Viper powered X2TE taking all four rounds of qualifying and all three A-finals. He also set the fastest lap of the race with 25.3 seconds, more than one second faster than anybody else.
RD4 Top 3
1. Zacarias Villalba, Ansmann X2TE, Viper
2. Antonio Notario, Team Losi TLR22
3. Javier Esnaola, Associated B4.1, Speed Passion
The overall championship was secured in the last round by another Ansmann driver Juan Luis Roman who made a consistent series, finishing in the top 10 in all four rounds.
Championship Top 3
1. Juan Luis Roman, Ansmann X2
2. Raul Moreno, Associated B4.1
3. Javier Esnaola, Associated B4.1, Speed Passion
[youtube]http://www.youtube.com/watch?v=3gCYTUDCLUs[/youtube]
---