October 6, 2011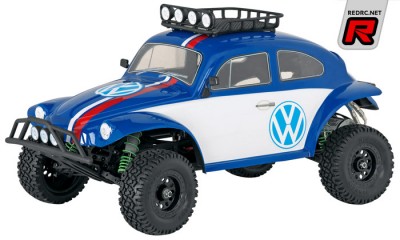 The DuraTrax 1/10 scale VW Baja Bug gives drivers a blast from the past. DuraTrax has engineered this model to match the original characteristics of being tough, tireless and a ball to drive. The Bug takes harsh terrain in stride, handles sand dunes as easily as dirt roads and rainy weather just as confidently as perfect driving conditions. Features like MagnaFlex components and Stress-Tech protection let drivers take over tough turf with confidence and because the Bug is ready-to-run with a 2.4GHz radio, motor and ESC, they can "drop the hammer" and go anywhere. Scale detail bodies feature signature details of the originals from light bars, bumpers and roof racks to modified fenders and an exposed engine, complete with dual exhaust. The 2.4GHZ radio system is dependable, interference-free and fully compatible with Futaba FHSS (Frequency Hopping Spread Spectrum) radio systems like the 2PL, 3PL, and 4PL.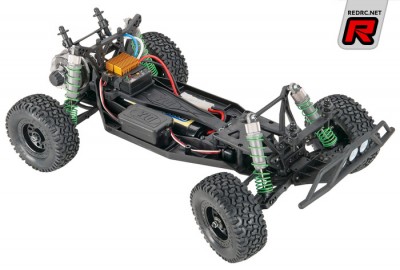 Features
– Rugged All-Terrain Tires are mounted on bead-lock style wheels and complete with foam inserts.
– Photon Speed™ 2 19T Motor – modified and a proven performer!
– Waterproof Sprint™ 2 Plus ESC offers a new waterproof design and LiPo cut-off with the same smooth proportional control of forward, reverse and brake.
– Oil-Filled Shocks are factory-assembled, installed and adjustable with machined aluminum caps.
– Shock Tower with multiple holes offers multiple tuning options! Molded from MagnaFlex plastic and protected by the Stress-Tech Guarantee!
– Waterproof Radio Box seals tight to keep the 2-channel FHSS receiver high and dry.
– Tough Battery Strap holds tight and releases cleanly – a perfect fit for soft-/hard-case LiPos as well as NiCds and NiMHs.
– Waterproof Servo & Servo Saver are designed for fast, responsive steering – and protects the servo from accidental impacts.
– Gear Differential is off-road rugged and virtually maintenance-free.
– Adjustable Slipper Clutch controls wheelspin and protects the gears.
– Full Set of Ball Bearings fights friction, reduces wear and raises top-end speeds.
– Fully Adjustable suspension for better handling and stable running regardless of conditions.
– One-Year Stress Tech Guarantee.
Source: DuraTrax [duratrax.com]
---