October 5, 2011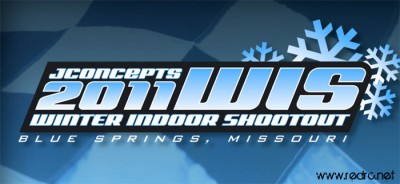 JConcepts and Steve "Hillbilly" Hale have teamed up to bring a special event to Real R/C Raceway in Blue Springs, Missouri on November 19-20, 2011. Properly named the JConcepts Winter Indoor Shootout and Hillbilly Invitational takes place directly in the Heartland of America. The famous track owner and "Hillbilly," known for running some of the best events in the United States has created a special event at his home track where several of the Midwest's finest racers do battle on a weekly basis. Simply put, this is music to the racers ears.
A newly opened and enlarged Real R/C Raceway provides the setting to this first annual event.   Conveniently located just 25 minutes from the Kansas City airport make it just a short drive away from Blue Springs.  All popular 1/10th and Short Course classes are being offered, featuring 3 rounds of qualifying and extended B and A main events.
24 Hillbilly Invitational drivers will be hand selected by Steve Hale himself and feature 5 rounds of 2wd on Saturday and 5 rounds of 4wd on Sunday.   Invitational drivers will run the Reedy Race (Heads up) format and will receive a complete set of JConcepts control tires, Bar Codes, for the most equal Invitational experience.
All racers will receive an official JConcepts t-shirt with their first entry and have access to a select amount of top-shelf prizes throughout the weekend courtesy of event sponsors.    Awards will be presented courtesy of Real R/C Raceway to the top 3 drivers from each class.
The Midwest racers are all about fun, competition and close racing.  Reserve the dates, book the trip and signup via RCsignup for the 2011 JConcepts Winter Indoor Shootout and Hillbilly Invitational today.   Stay up-to-date by visiting the 2011 Winter Indoor Shootout on Facebook or by visiting www.jconceptsevents.com
Available classes –
– 1:10 2wd buggy stock
– 1:10 2wd buggy modified
– 1:10 truck stock
– 1:10 truck modified
– 1:10 4wd buggy modified
– PRO 2 SCT – stock
– PRO 2 SCT – modified
– PRO 4 SCT – Open
– 1:8 Electric buggy
Hillbilly Invitational – 24 drivers will be hand selected by Steve Hale himself and feature 5 rounds of 2wd on Saturday and 5 rounds of 4wd on Sunday
– 2wd modified
– 4wd modified
Race Date –
JConcepts Winter Indoor Shootout
November 19-20, 2011
Real R/C Raceway – location address
2850F West 40 Hwy
Blue Springs, MO 64015
Source: JConcepts [jconceptsevents.com]
---