October 2, 2011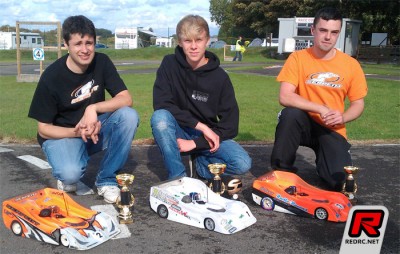 The 8th Round of the Championship was hosted by the Cotswold Club situated within the Cotswold airport complex. The weather forecast was for a wet Saturday and a dry Sunday, but this turned out to be the opposite which had all the drivers frantically adding wet setups to their cars and changing to damp tires. Every driver decided a banker time was required since due to the open nature of the track surroundings and no wind would result in the track taking a long time to dry out, if at all. In first round of qualifying, it was the top 5 who pulled out a good lead. Kyle Branson then broke away with Tim Wood chasing hard. Neil Diver who was on a charge had engine trouble and Andy North / Richard Hicklin made errors which resulted in slower times and no place in the top final at present. Round 2 was similar conditions to round 1 but times were generally slower but Neil Diver did improve to guarantee a final position.
With the rain steadily increasing the likelihood of any improvements were slim with some drivers deciding to try full wet tires but due to the standing water, it was proving difficult to keep the engines running. Kyle Branson therefore retained TQ with Tim Wood second.
The final blasted away in grid order with Kyle Branson starting to pull out a little lead over Tim Wood who was under pressure from Dan Ghibaldan. Kyle then made a mistake after his first pit stop and found himself half a lap down but when the track started to slowly dry, Kyle caught Tim and passed him after pitting 1 lap later. Neil Diver had issues with his one-way bearing and finished down the order. Jason Frost made very little mistakes, stayed out of trouble to finish a good 3rd. The final results were as follows:
1. Kyle Branson (Serpent/Sirio/Contact) – 85 in 1815.31
2. Tim Wood (Serpent/Xceed) – 84 in 1809.73
3. Jason Frost (Serpent/IDM) – 82 in 1816.16
4. Dan Ghibaldan (Shepherd/IDM) – 81 in 1800.23
5. Karl Dransfield (Shepherd/IDM) – 80 in 1808.23
6. Andrew Hastings (Shepherd/IDM) – 78 in 1819.27
7. Nick Gilbert (Serpent/OS) – 76 in 1805.69
8. Greg Fairlie (Serpent) – 76 in 1817.28
9. Ashley Gouveia (Serpent/Xceed) – 69 in 1595.29
10.Neil Diver (Shepherd/IDM) – 48 in 1294.67
With this win, Kyle Branson secures the BRCA 1/8th National Championship for the first time after recording a perfect score of 6 wins from 8 races.
Thanks to Andy North for the report.
---