October 26, 2011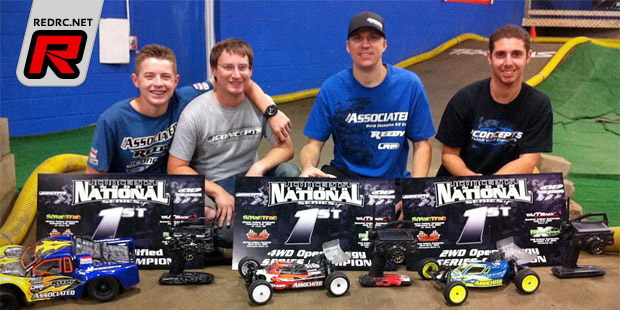 Announced early 2011, the JConcepts Indoor National Championship Series consisted of four rounds at various indoor track locations across the nation. The series started out in St. Louis, Missouri, at SmacTrac, then moved out West to OC/RC in Huntington Beach, California, and then up the coast to Outback Raceway in Chico, California, before rounding out at RC Excitement in Fitchburg, Massachusetts. Gaining points at each round, drivers competed to become the first Indoor National Series Champion.
With Mr. JConcepts Jason Ruona at the helm of the organization and Associated Team Manager Brent Thielke both in attendance at every round, the series brought exposure and heated competition at each stop. Averaging close to 250 entries per round, attendance and series interest remained strong throughout the year with lots of local and regional support, making the events popular and a "must attend" for many top regional racers.
With one win and two second-place finishes, Associated/Reedy/LRP's Josh Numan took the coveted 2WD Modified title with teammates Brent Thielke and Tanner Denney rounding out the podium. The 4WD Modified podium looked similar, with Thielke and Numan switching spots and Thielke taking the overall series title with his Reedy-powered B44.1 with two wins and one third-place finish. Not to be left out of the championship club, Tanner Denney earned the 2WD Short Course Modified title with a win and two second-place finishes.
Look for the JConcepts Indoor National Championship Series in 2012 coming to a track near you with even more Team Associated drivers and support for the events.
Source: Associated [rc10.com]
---