November 21, 2011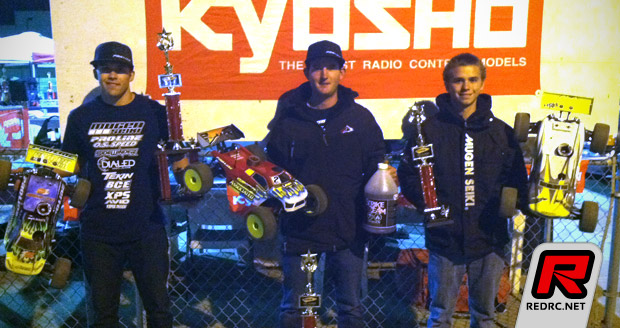 The 2011 Kyosho Fall Classic was held last Saturday at Revelation Raceway in Ontario, CA. This annual event has been known to bring in some of the best nitro drivers from all over Southern California. This years event would be no exception. Drivers such as current 1/8 Buggy Nitro World Champion Cody King, Current ROAR 1/8 Buggy National Champion Ryan Cavalieri, Ty Tessman, Richard Saxton, Dylan Rodriguez, Drew Moller, and Jessie Robinson were all in attendance. The weather was great all day long staying in the 60's.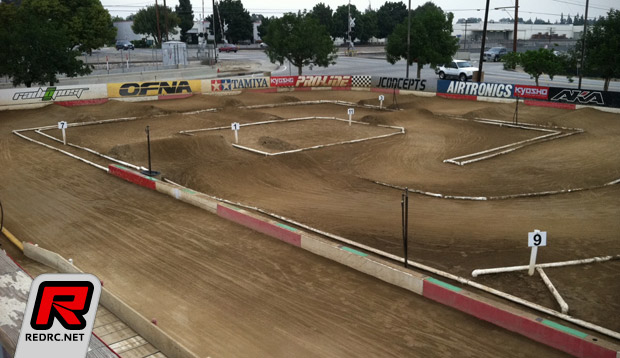 In the 1/8 Pro Truggy Class it was Team Orion's Ryan Cavalieri that went on to TQ both rounds 1 and 2 to take the overall TQ for the class. Dylan Rodriguez would start 2nd and Team Orion's Cody King 3rd.
In the 20-Minute A-Main it was Cavalieri who broke away from the field after the first couple laps and never looked back. At the halfway point Cavalieri had stretched his lead to over half a lap on second. As the checkered flag waived, it was Cavalieri crossing the finish line first to take home the Win! Dylan Rodriguez and Jessie Robinson had a great battle for the 2nd position with Rodriguez just edging out Robinson.
In the 1/8 Pro Electric Buggy Class it was Team Orion's Derek Furutani that would just miss the overall TQ by a few seconds. Furutani would start 2nd on the grid for the A-Main.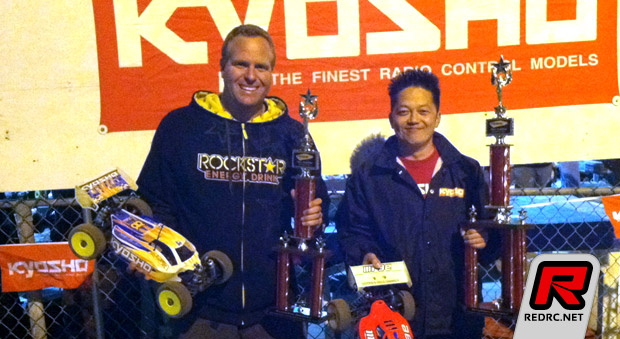 At the start of the 8-Minute A-Main, Furutani had a great start and kept pace with the TQ. A mistake by the leader allowed Furutani to get by for the race lead. Furutani would hold the lead for the rest of the main event and take home the 1/8 Electric Buggy Championship.
The 1/8 Pro Buggy Class would be the last main event of the day. Team Orion's Cody King TQ'ed both rounds 1 and 2 of qualifying to take the overall TQ. Ty Tessman would start 2nd and Team Orion's Ryan Cavalieri 3rd.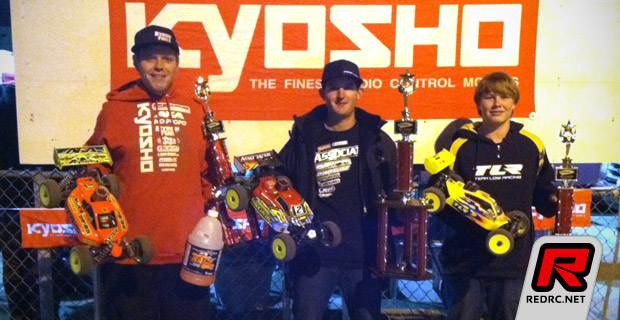 TQ Cody King got out to a great start for this 30-minute A-Main Event. Tessman and Cavalieri had a rough opening lap that would move them to the back of the field. At the halfway point of the main, King is out front with a big lead. Cavalieri put on a charge and worked his way up to 2nd, but was still 10 seconds lead behind the King. With 2 laps to go, Cavalieri made his way right up to the back of King. Cavalieri then made a pass on King for the lead halfway through the lap and then King passed Cavalieri right back a few corners later. With King leading and Cavalieri in 2nd starting their last lap, the Championship was down to this. With 3 corners from the finish, King makes a slight mistake and Cavalieri gets around him for the win.
Source: Team Orion [teamorion.com]
---