November 26, 2011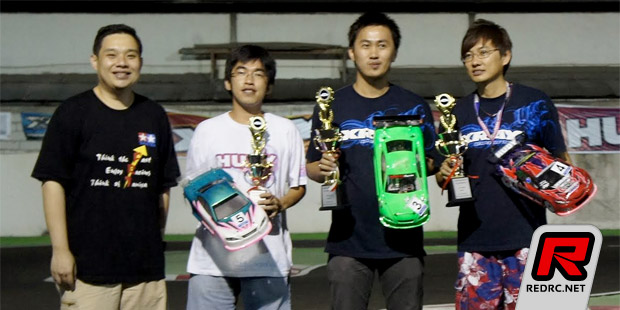 The annual Indonesian Year End Race was held recently at the Sunter International Speedway (SIS) in central Jakarta, Indonesia. With over 90 entries registered from all over Indonesia the race would see 3 classes be run, stock touring 11.5T boosted, front wheel drive 13.5T handout and mini 2wd. The most popular class stock touring 11.5T boosted would go down to F-Main, while competition for the Indonesian national title was still ongoing. The track layout was newly designed by track manager Suwardi Suliandy with a superb layout and surface, as well as an air conditioned pit and viewing room.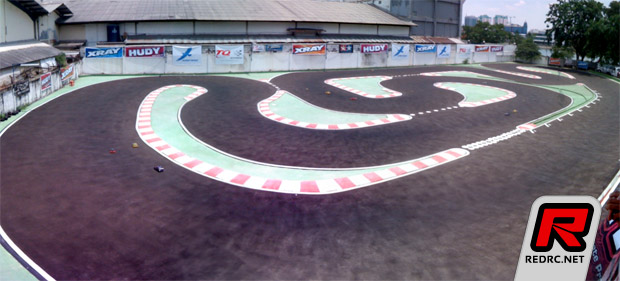 In the Stock class, Indonesia's Bowie Ginting was dominating the first day of qualifying in his Orca powered Xray T3 taking the top spot in all 4 heats with 5 second to spare over 2nd spot Heri also with his Orca powered Xray T3. All Drivers would still have a chance to up their position in the last qualifying heats on Sunday morning. In the last qualifier on Sunday, it would be difficult for drivers to improve due to the morning dust but it might still be possible with a new set of tires. The big surprise was by Ronald, snapping the 2nd qualifying spot dropping Heri, P.Y.Tang and Suwardi a spot down. Bowie remained TQ.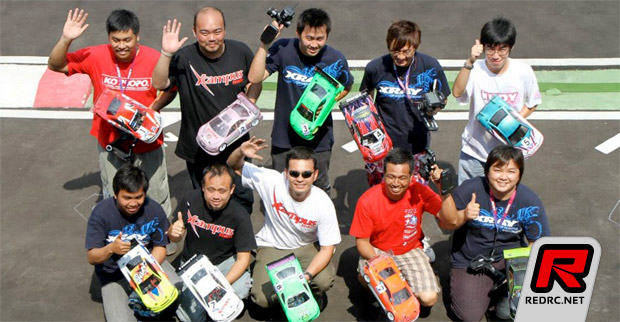 Stock 11.5T Top 10 Qualifying Standings
1. Bowie Ginting – 19 laps – 5:09.211
2. Ronald – 19 laps – 5:14.330
3. Heri – 19 laps – 5:14.733
4. P.Y.Tang – 19 laps – 5:15.123
5. Suwardi Suliandy – 19 laps – 5:15.469
6. Dhika – 18 laps – 5:00.524
7. Dimas – 18 laps – 5:01.429
8. Teddy Syach – 18 laps – 5:02.709
9. Ronnie – 18 laps – 5:05.067
10. Andy – 18 laps – 5:05.797
With very close laptimes among the top 10, the finals were going to be very tough. Final A Run 1 got underway with Bowie starting off clean, while P.Y.Tang went into 2nd from the start tone. Bowie led the pack until the 5-minute mark retiring due a tire failure allowing P.Y.Tang to take the lead, while Heri came up strong in the 6-minute mark reeling in the leader. In the final closing minute, Heri capitalized on P.Y.Tang's mistake spinning out at the infield hairpin. With that, Heri took the win followed by P.Y.Tang in 2nd. Suwardi Suliandy was disqualified despite finishing a strong 3rd, due to missing controlled tire stickers.
Bowie had a good start again in Final A Run 2. P.Y.Tang took 3rd position at turn 1 and then took the lead at the infield with Bowie dropping to 3rd and Suwardi came up to 2nd. Bowie title contention came to an end when he failed to finish again sufferred from universal joint failure. P.Y.Tang who was running an older set tires unable to hold the pressure from Suwardi who ultimately overtook the lead and took the win. P.Y.Tang finished 3rd while great driving and pressure from Dhika in the final lap found himself in 2nd.
Going into Final A Run 3, P.Y.Tang had the best combined result if 2-3, but a win in the final run by either Heri or Suwardi would take them the championship. Bowie started off clean at the tone, and P.Y.Tang again propelled into 2nd at turn 1. Bowie in the lead was pressured by P.Y.Tang for about 4-minute mark, while Heri and Suwardi was fighting for 3rd. Contact between Suwardi and Heri, dropped Suwardi to 5th, while Heri pursuing for the leaders. P.Y.Tang maintained Bowie in sight hoping for the best, but Heri again was reeling in the 2nd leader. Heri closed in on P.Y.Tang on the last minute mark. P.Y.Tang defended his lines, but Heri made a great pass at the in-field S-section, but found himself back in 3rd at the last corner before the long straight. Bowie took the win 3 seconds over P.Y.Tang in 2nd and Heri just 0.2 second apart. With tied points, Heri was crowned champion for the 2011 Indonesia Year End Race winning by less than 1 second over P.Y.Tang in 2nd overall, and superb performance by Suwardi Suliandy taking 3rd overall, giving Xray-Orca the 1-2-3 podium!
Stock 11.5T Top 10 Final Standings
1. Heri – 4pts
2. P.Y.Tang – 4pts
3. Suwardi Suliandy – 6pts
4. Dimas – 7 pts
5. Dhika – 8 pts
6. Teddy Syach – 8 pts
7. Bowie Ginting (TQ) – 9 pts
8. Andy – 12 pts
9. Ronnie – 15 pts
10. Ronald – 19 pts
Source: Quantum [quantumracing-rc.com]
---