November 9, 2011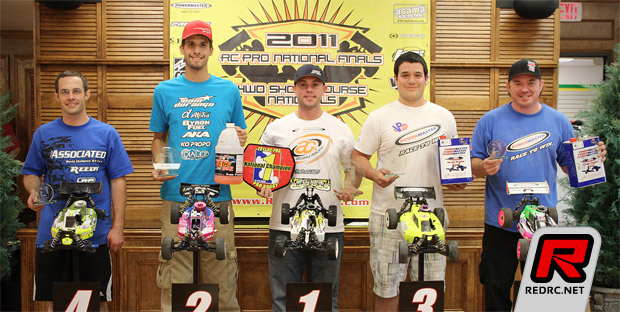 This past weekend Agama/Pro-Line racer Jason Branham attended the RC Pro International Finals in Porter, TX,just outside of Houston, at Mike's Hobbies and Gulf Coast Raceway and wrote this report. Gulf Coast Raceway is probably one of the finest race facilities you will find in the country and as host of the 2010 IFMAR Sedan World Championships, GCR was very excited to host their first major off-road race. The crew did a fantastic job with the layout which made for some very fast and close racing. I came into the Finals tied in points with Ryan Lutz in Pro Buggy and Mike Battaile in Pro Arena Truck so I knew right off the bat that if was going to take the titles then I was going to have to finish ahead of these guys as well as the rest of the field to do so.
The track at GCR is a hard packed clay surface and as the rubber was layed down by the many laps turned the traction just got better and better.  The weather changed throughout the week so this too had a major effect on the grip so keeping up with the right tire was crucial.  I ran M3 Hole-Shots on the first day of qualifying on both truck and buggy because they felt the most consistent with the different weather temps.  With a solid day of qualifying on Thursday I was set up well for the mains on Saturday so on Friday, with two more rounds of qualifying to go, I knew I needed to find out what tire set-up I was going to run for the hour long main on Saturday.  On Friday I ran M3 Recoils in the morning and ran my fastest time of the week so in knowing they were good I decided to run M2 Blockades in the middle/warmer part of the day and I only got faster running the 2nd fastest buggy time of the weekend.  Since I knew the main would be ran sometime in the afternoon on Saturday I decided to go with the M2 Blockades for the main.  In truck I went along the same lines as buggy and ran the new VTR 2.0 Revolvers in M2.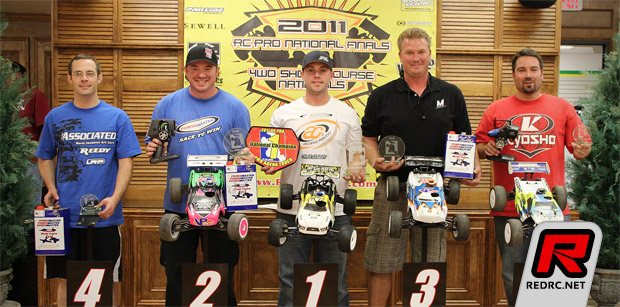 Both of my cars were hooked up for the main and in truck I drove a great main and with a little trouble from Jesse Robbers I was able to take the win and also the RC Pro Arena Truck National Championship.  In buggy, again I drove another great main but could not hold off Robbers at the end so I finished 2nd but with the finish I had enough points to claim the RC Pro Buggy National Championship for a second straight year.
Source: Pro-Line [prolineracing.com]
---