November 19, 2011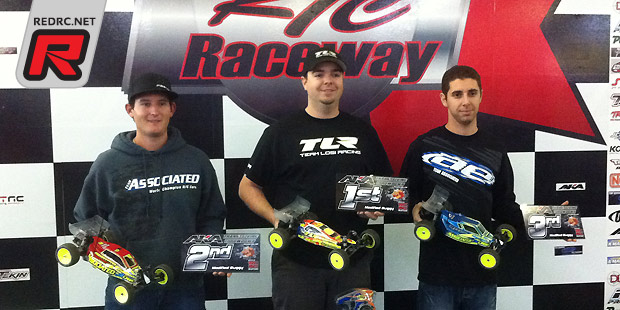 TLR and Losi's Frank Root, Cody Turner, and Matt Castellano were on hand at the second round of the Thanksgiving Throwdown Series Saturday at West Coast R/C Raceway (WCRC). The track had fantastic traction, and a really fun and technical layout. The entry count was very strong with 19 full heats and a great day of racing was had by all.

There were 4 full heats of 2WD modified buggy and the qualifying action was intense. Frank Root had a quick run in the first round to take the early TQ. The second round Frank run nearly an identical time to he first round, beating his TQ narrowly. When the dust had settled, Root was TQ with Turner 6th and Castellano 9th on the grid. When the tone went off, Root got off to a great start and put in clean lap while being chased by a 3 car freight train. Eventually, Frank was left with only one challenger still in close pursuit. The racing was close, but Frank managed to get the win with his 22 to take a strong hold of the points lead in the series. Turner and Castellano both had had a great run also moving up from their starting spots to finish 4th and 5th respective giving the TLR 22 the TQ, win and 3 of the top 5 spots for the night.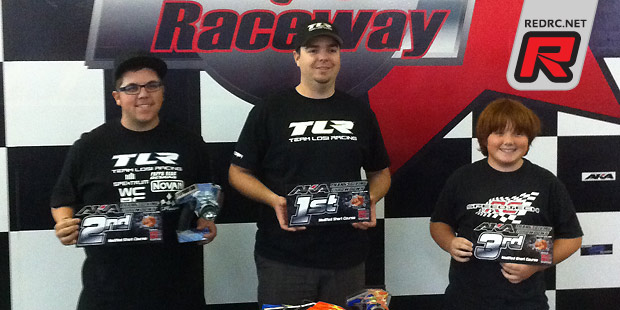 Pro2 (Modified SC) – Frank's Losi XXX-SCT equipped with the TLR Tuned Kit was untouchable all day. Cody would take the TQ in the first round with a strong run. The second round saw Frank and Cody battle for the lead early with both on a TQ run, but Frank would eventually pull away a little and take the TQ, with teammate Cody Turner in 2nd. Frank started on form at the sound of the tone and quickly pulled out from the field, leaving the battle for 2nd place. Turner finished 2nd with his Losi XXX-SCT giving the XXX-SCT the top 2 steps of the podium.
Source: TLR [tlracing.com]
---