November 14, 2011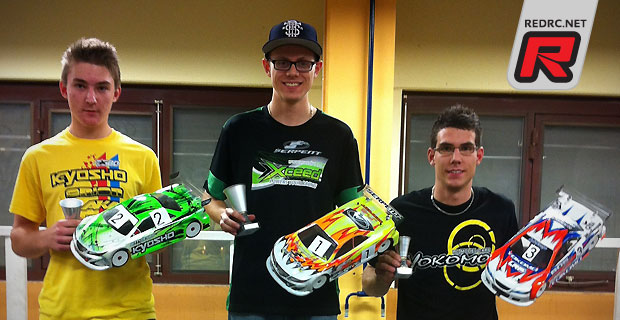 The second round of the South Swedish Indoor Cup was held on an indoor track in the middle of south Sweden. About 30 drivers attended the race on a newly endowed carpet track which had a new layout that was really nice and flowing. The first round of qualifying was taken by Michael Nilsson who had a solid run, he was a few seconds ahead of the home driver Markus Hellquist followed by the Rd1 winner Daniel Carlsson. Q2 was once again taken by Michael and this time he drove perfectly without any kind of mistakes, he was followed by Daniel who was 3 seconds behind and third place did go to Markus. Q3 looked out to be a close finish between David Ronnefalk and Michael, this was "Buggy" David's first race this season and his gear diff equipped TF6 was going really well. Michael was under pressure but he stayed calm and was able to hold David behind, at the end they were separated with 0.5 seconds, so Michael took TQ followed by David and Daniel.
The final looked out to be a three horse race between Michael, David and Daniel. The first A-final saw a good start of the top three and they were able to pull away from the others. Halfway in the main David started to lay down some pressure on Michael but was at the same time needed to look in the mirrors to see what Daniel was doing. David tried to go on the inside of Michael out on the straight but touched the curb and rolled, this let Daniel pass David. Michael took A1 followed by Daniel and David. In A2 once again a tight battle between the top three arose, Daniel was losing just a bit of ground on David and Michael as had a great race. David once again laid some pressure on Michael to get him nervous but he was an iceman and hold on to the finish, the separation was 0.6 sec and Daniel finished on a solid third. With Michael already being the winner after the second run the focus for David was to hold Daniel behind. Michael raced the last one for fun. David decided just to follow Michaels pace, Daniel had made some changes on the car for the last one and didn't feel good with it, but a mistake by David made it possible for Daniel to close in. When it was one minute left David had a gap of 2 sec. and just tried to not make any more mistakes. Daniel pushed hard to pass but it was a bit too late. David was able to hold him behind with a separation of 0.7 sec. It was a great race, fun track and good racing.
Top 3 Result
1. Michael Nilsson – Serpent/Viper/Dynomax/Intellect
2. David Ronnefalk – Kyosho/Orion/Orion/Orion
3. Daniel Carlsson – Yokomo/LRP/LRP/LRP
[youtube]http://www.youtube.com/watch?v=tKeHIQsenBs&hd=1[/youtube]
Many thanks to Pierre Ronnefalk for sending the report.
---