November 9, 2011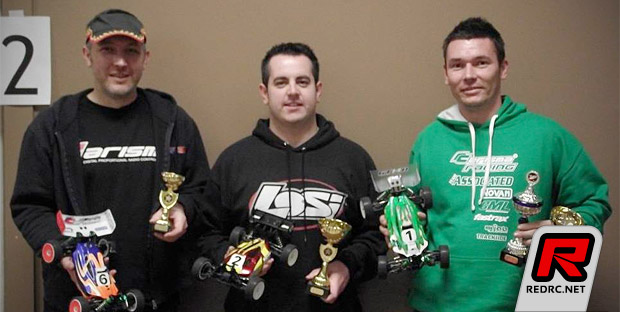 Round 2 of the BRCA micro off road nationals took place in Telford last weekend. This venue was agreed at a relatively late stage in the series organisation process because another venue had to withdraw their application to host the meeting. The host club presented the drivers with a slightly unusual track, made up of mostly flat polished wood sections with minimal carpet and only a couple of jumps. Opinions were mixed, but in fact almost everyone admitted to enjoying the challenge of racing on an unfamiliar track style, and the racing was close and clean all day.
At this meeting, eyes were upon the new Losi Mini 8ight chassis, which was being driven by Horizon Hobby UK team drivers Mark Stiles, Andy Jones and Jim Davis. The Losi's were immediately on the pace of the longer established Carisma and LRP cars and it was clear from an early stage that both Mark and Andy would have a chance to fight for the top positions.
Phil Sleigh produced an electrifying last qualifying run to take pole position for the A final with his Carisma, but he would have Mark Stiles' Losi for company on the front row. Mark is a double British champion in micro off road and is returning to the series this season to drive the new Mini 8ight after a year away from the class. Ben Elliott was impressive in qualifying and took 3rd ahead of the second Losi of Andy Jones and Andy Vincent.
The A final saw at least 3 different leaders, with Phil Sleigh leading for the first part. Ben ran in second to begin with after a poor opening 2 minutes saw Mark drop to 4th behind Craig Harris. However, a small mistake from Craig allowed Mark to regain 3rd place from where he set about closing down the lead pair as the race progressed. With just over 1 minute to go, the lead trio were together on the track and separated by less than 2 seconds. Mistakes from Phil and Ben, followed by an opportunistic move from Mark, allowed the Losi driver to take the lead. The final minute saw Phil applying intense pressure to Mark in an attempt to regain the lead, but Mark kept his composure to take a well deserved victory on what was his return to racing this class, and the very first competitive outing for the Losi Mini 8ight. The winning margin was just 0.14seconds, with the top 3 covered by less than 1 second at the end!
1/16th 4WD A final Result:
1. Mark Stiles – Losi
2. Phil Sleigh – Carisma
3. Craig Harris – Carisma
4. Ben Elliott – Carisma
5. Andy Jones – Losi
6. Andy Vincent – LRP
7. Mark Williamson – Carisma
8. Tony Bishop – Carisma
9. Chris Bottle – LRP
10.Ben Turner – LRP
Round 3 of the championship will take place at Dudley in 4 weeks time.
Thanks to Mark Stiles for the report.
---