November 27, 2011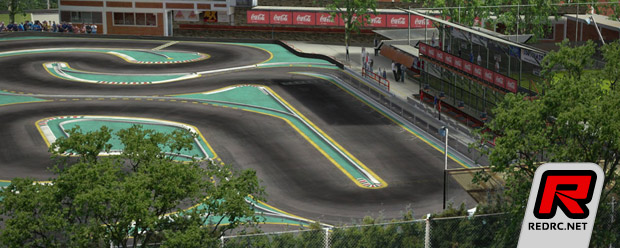 In December 2011 VRC organizes 3 World Championships, a whole month of virtual r/c racing at the very highest level. Each of the Worlds is over 4 rounds, spread over 12 days. The VRC Pro 2011 World Championship 1:10 electrics will start on the 16th of December! Don't miss out on what is surely THE MOST popular event of the year, attracting many, many racers! Last year more than 1000 racers participated in the VRC v3 Worlds, and this year promises to be even bigger. On December 2nd the nitro racers kick off with 1:8 at the new Luxembourg track, a week later on the 9th it's 1:10 nitro's turn at Pegaso, Mexico. The 1:8 nitro has a 60 minutes main final, 1:10 nitro 45 minutes! These are the races you want to win and have on your r/c racer c.v.
Driving across the Earth: 20,800km
A few racers have now driven close to 13.000 km which happens to be the diameter of the earth. An incredible distance if you think of it, with a (virtual) model racing car! Assuming an average speed of 65 km/h this means some 200 hours of racing since these racers got involved in VRC Pro. Manabu Oshima from Japan leads the long distance racers, followed by Herman Raith from Germany and Tom Elbersole from the USA. At this pace we may expect to see the first VRC Pro racer to reach 40.000 km, the around the world distance, in September or October next year!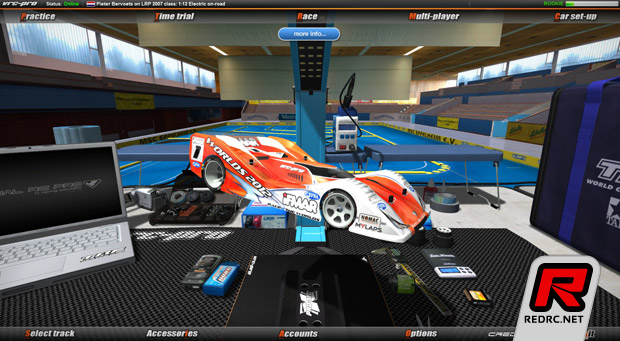 Referral Bonus
VRC Pro has intensified its referral program with great incentives for both the referring member as for the invited member. VRC Pro members can now earn also subscription periods up to one year besides the virtual cash they were already receiving for each successful referral. VRC Pro is an excellent way of introducing your friends to r/c racing. You will never let them drive your car for sure, but with the VRC Pro trial software now being absolutely free your friends can easily give it a try and you can finally now even race together, even if he has just a gamepad (see next article). Finally race your long distance racing friend, just invite him in! All you really need is a decent PC or notebook with a proper gaming graphics card.
Race VRC Pro with your Gamepad
About 10% of all VRC Pro members are using, or have used a PS3 or Xbox gamepad to control their car in VC Pro. This is possible by loading specific drivers which make these USB gamepads suitable to be used on a PC. Of course the gamepad is not ideal to make the step into real r/c cars as there are no gamepad-like transmitters (yet). This suggests that VRC Pro is used by gamers who are getting a first r/c experience through VRC Pro. Hopefully we will see these gamers show up on real tracks one day!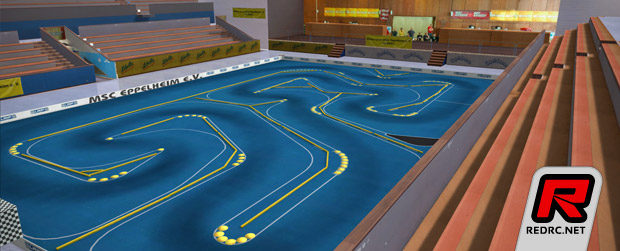 Eppelheim LRP 2012 Masters Track
The 2011-2012 version of the LRP Masters track has been released in November. LRP has confirmed that the lay-out will be identical during the 2012 LRP Masters race, one of the most important and well attended races in this class. The 2012 lay-out is more fluent then the 2007 lay-out which was generally considered to be the hardest track in VRC Pro. The track is still very challenging but is certainly less intimidating. This track will host the virtual 2011 Worlds in ISTC and of course also the virtual LRP Masters in March 2012.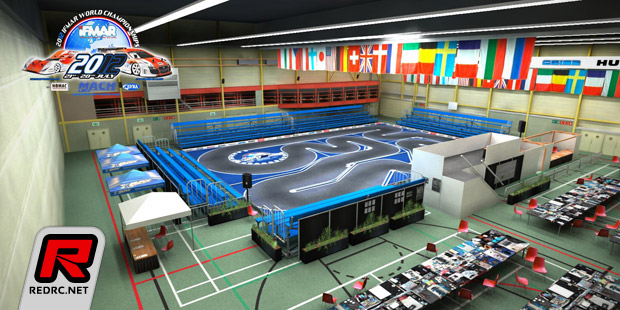 1:12 scale carpet racing
With the 2012 IFMAR Worlds for 1:10 and 1:12 being at VRI's hometown Heemstede in the Netherlands development work has started on the 1:12 class. The X12 and RC12 have been modeled and testing will start shortly. A sneak preview of the 1:12 car with 2012 Worlds decals on it. This class is expected to be added to VRC Pro early 2012. The organizing club has called on the help from VRC to model the changes required on the MACH circuit for this Worlds, and to model the 1:12 indoor facility.
For more information about VRC go to the game website here.
---