December 8, 2011
This past weekend saw the 4th round of the Florida State Series take place in Kissimmee and Kosmic Fuel was in attendance to support the racers. With over 60 racers between the 2 classes the competition was pretty good with racers from Connecticut, Virginia, Maryland and Jersey came to compete with the Florida boys. In the sedan class it was Scotty Gray taking the TQ by 2 tenths with DJ Apolaro in 2nd and Rino Lino 3rd. In the 1/8 scale class it was Paolo Morganti taking the TQ with Capricorn driver Ronnie Regalado in 2nd and Sean Lue 3rd.
At the start of the sedan race on the first lap DJ Apolaro went for a pass on the inside of Scotty Gray, with Scotty trying to close the door. DJ being on the inside got the better of this situation and Scotty fell back to the middle of the pack and Rino got by both for the lead. On the second lap DJ was able to get by Rino and started to get distance between him and the field. Rino ran into trouble and was out for a few laps and Scotty was pushing to try and chase DJ down. The pace was too much and Scotty would end up traction rolling. DJ, debuting the new Capricorn C02 in the United Sates, was able to keep a fast enough pace without traction rolling. With good driving by Eduardo Cabal, he was able to get into 2nd place and never get challenged. In the end it was DJ Apolaro taking the win with Eduardo Cabal 3 laps back in 2nd and Eric Jones in 3rd.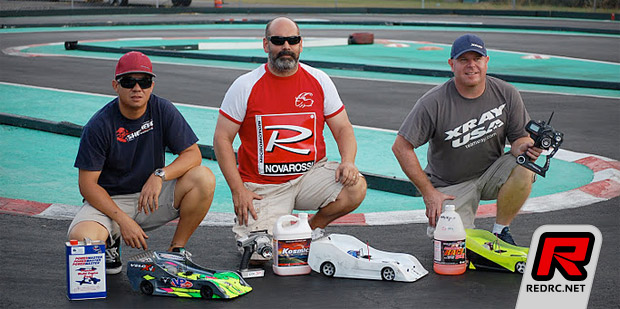 In 1/8 scale Paolo Morganti got a clean start and was pulling away little by little. Then a small mistake sent him flying and getting flipped over and damaging a tire. With him coming in for an unscheduled tire stop this allowed Ronnie Regalado to take the lead and by this time command the race. His car had come in and he was turning some fast laps. Ronnie and Sean Lue were the only cars on the same lap at this point and Ronnie just got faster and faster. By the end of the race Ronnie finished 1 lap ahead of Sean Lue with Bobby Horan taking 3rd. In the end this was a great weekend for Kosmic RC Fuel. Taking 1st and 2nd in Sedan and taking the win in 1/8 scale.
Source: Kosmic RC Fuel [kosmicrcfuel.com]
---