December 6, 2011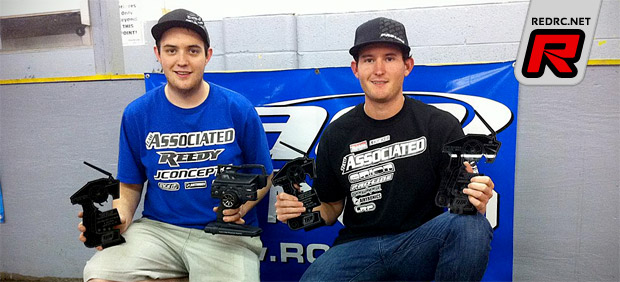 With 407 entries, the Spektrum Off Road Challenge has grown in popularity like wildfire over the past two years. With Scotty Ernst at the helm and a great Trackside facility, it's no wonder people flock to the event. Teams and racers came from all over the country to compete. Team Associated sent 2011 World Champion Ryan Cavalieri, Team Manager Brent Thielke, Kody Numedahl, Chad Due, and Reedy's Sean Cochran for support.  As qualifying started it was clear that Chad Due was comfortable on his home track and would compete for the top steps of the podium. Taking top qualifying honors in 2WD Modified in round 1, Due set the pace that challenged the field. In typical Cavalieri form, the World Champion put his head down and set TQ in the next three rounds with his B4.1 to start on pole with Team Associated teammates Due starting second and Numedahl fourth.
Cavalieri drove a flawless A1 and cruised to victory. A mistake from Cavalieri in A2 saw him fall behind National Champion Dustin Evans and set the stage for a winner-take-all A3. At the start of A3, Cavalieri set a blistering pace that Due and Evans tried to keep up. With just a few minutes in to the 5-minute main, Cavalieri had a 2-second lead. While the others pushed and made mistakes, the World Champion continued to pull away. In the end it was Cavalieri on the top step, Evans in second, and Due in third.
The Pro2, otherwise known as Modified Short Course, was another Cavalieri domination. With a TQ and front row, inside starting position, Cavalieri checked out from the field leaving Numedahl and Due to battle it out for the remaining two podium positions. At the end of the 7-minute main event, Cavalieri led a 1-2-3 podium sweep for the Factory Team SC10.
In the Pro4 class or Modified 4WD Short Course, Cavalieri started outside of the front row with teammate Numedahl inside on the second row. A good jump from Numedahl and a slightly wide corner from Cavalieri saw the TQ teammates come together with Cavalieri getting the worst end of the altercation. Numedahl then set his sites on National Champion Dakotah Phend. Hounding Phend, Numedahl was able to force a mistake and never looked back. Meanwhile Cavalieri worked his way back up to Phend's bumper and within a few laps got around. At the end, Numedahl lapped up to fifth place in a dominating performance for his SC10 4×4, which was equipped with the new Reedy 550 4.5 motor and LRP SXX TC speed control.
Source: Associated [rc10.com]
---