December 1, 2011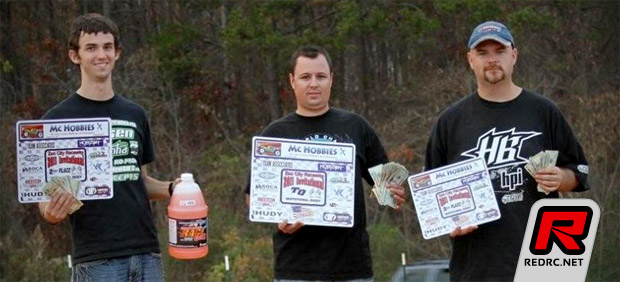 The second year for the NC Invitational was held at Zoo City Raceway in Asheboro, North Carolina. Jamie Tucker, Race Director/Organizer of the whole event, invited people from each manufacturer to represent their company. AE drivers Chris Pace, Max Fluer, and Jamie Grayek were present for Team Associated. The format for the Invitational class was five rounds of qualifying on Saturday and a 45-minute A Main Sunday. Pace and Fluer TQed the first three rounds of qualifying, securing TQ in three classes. Pace and Fluer were not done there – in the Invitational class, Pace ran the only 13-lap run of the event in the fourth round. With a slight bobble on the back section, Pace was quickly marshaled, but the marshal flamed his car, killing his chances for the fourth round. Max took second for round 4 in E-Buggy and TQ 4WD SCT.
Pace and Fluer went on to TQ round 5 in the Buggy class, both missing the 13-lap run by 2 seconds. Fluer took round 5 in 4WD. With qualifying done, that would add up to 13 TQs out of 15 rounds for Pace and Fluer. Pace and Fluer were ready for battle on main day.
In 4WD SCT Fluer won both A mains to take the overall win in 4WD SCT.
The E-buggy class was a great race to watch. In the first A Main, Fluer and Pettit had a battle. With 2 laps to go, Fluer went off the back section and Pettit took A1. In A2 Fluer had to win plus beat Pettit's overall time to take the win. At the tone, Fluer checked out and pulled off the win, beating Pettit's time by 3 seconds, making that two titles for AE!
It was up to Pace to bring home the win in the Invitational class. Pace started on the pole with Pettit in second. At the tone, Pace lead off with Pettit in tow. The second lap in, Pettit made a mistake and let Pace get away. Fluer went flawless and Pace led every lap of the 45-minute A Main and took the win by a lap on Pettit. Jamie Grayek took fourth and Mo Denton in eighth put three RC8.2s in the top 10!
Source: Associated [rc10.com]
---