December 13, 2011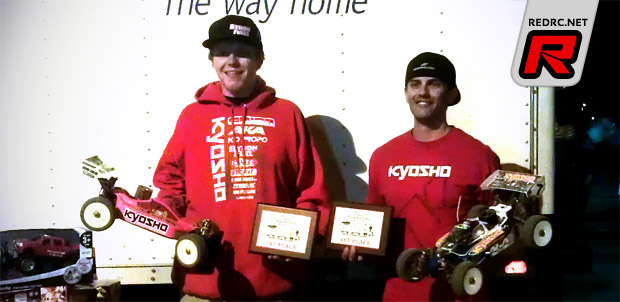 Just one week after the Palm Desert Raceway Toys 4 Tots race, a second Southern California Toys 4 Tots race was held at Revelation Raceway. Cody King was once again in attendance after winning the first leg in Palm Desert, but this time had to face Adam Drake on his home track. The expert buggy race, as expected would be a match race between Drake and King. In the pair's previous meeting here, King captured the TQ honors, but this time it would be Drake first on the grid, with a very impressive second round qualifier on a dry slippery track.
At the start tone, the first lap was clean as Drake and King immediately separated themselves from the chasing pack. King, did not waste time, making an inside pass on Drake early, and eventually stretching that lead out to 20 seconds. Around the second pit stop, King had a few crashes allowing Drake to get within 3 seconds of the lead. King managed to gather himself and get back in rhythm and stretch the lead back to 7 seconds. As time was running out, King made it past the loop for a final lap and Drake just missed it by less than a second, handing Cody the easy victory. Finishing order ended up Cody King first, Adam Drake second, and Colin Herzig two laps down in third.
Talking to Cody after the race, he complained his hands were frozen in the middle of the race, and this caused the problems mid way through the final. "I was just glad to get it back together and hold off Adam for the win. It was cold, I think 40 degrees out here."
In the open class it was rising star Sean Gaffney dominating the field, with the TQ and win. Sean built a two lap lead on the field and wheeled his MP9 to victory over Dylan Elliott. This would give Kyosho a clean sweep of both the open and expert buggy classes, with Cody and Sean being a formidable duo around the SoCal racing scene of late.
Source: Kyosho [kyoshoamerica.com]
---