December 1, 2011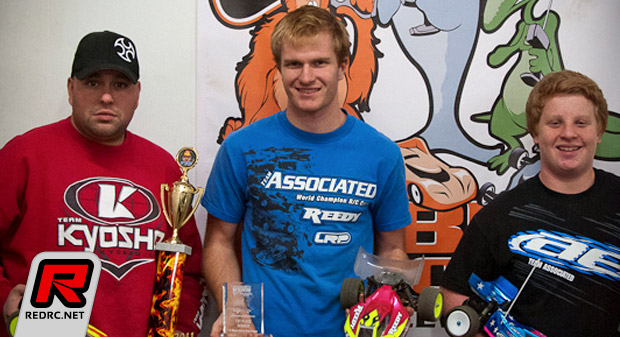 Critters Raceway & Hobby Shop of Fairfield NJ recently held its first Annual Fall-Brawl Trophy Race. Classes consisted of Sportsman, 2WD and 4WD Mod Short Course, 2WD and 4WD Mod 1/10 Buggy and 2WD truck. This was the second trophy race since the track was opened in May 2011, surviving the horrific flooding in NJ in August 2011. The turnout was great with almost 100 entries with the most popular classes being 4WD Short Course and 2WD Buggy with all Mod mains being 8 minutes in length.
2wd Buggy A-main saw TQ Mike Gay lead the first few laps with Andrew Parente following in 2nd and Michael Garramone in 3rd. Gay bobbled in Lap 7 giving the lead to Parente before switching positions about two thirds thru the race. Gunner Reick took over 3rd place from Garramone midway thru the race to complete the podium.
2wd Mod Buggy A Main
1. Gay, Mike – 33L 8:01.797
2. Parente, Andrew – 33L 8:06.219
3. Rieck, Gunner – 32L 8:08.069
4wd Buggy saw TQ Mike Gay bobble on the first lap giving the lead to Estaban "BBQ" Baquero. Gay quickly regained composure taking back the lead with Baquero falling to 3rd, with Gunner Rieck taking 2nd place. Toby Hamson took 3rd position just after half way through the race, to then swap back and forth with Baquero who eventually prevailed with a 3rd place finish behind Rieck in 2nd and Gay in 1st.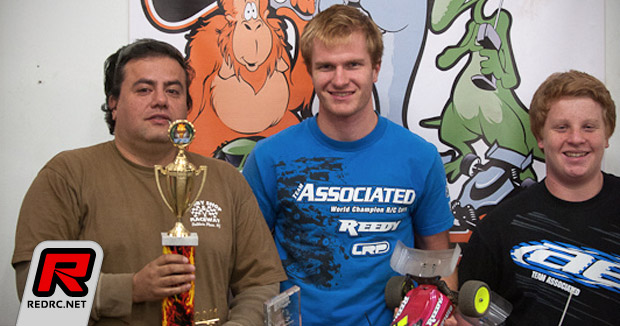 4wd Mod Buggy A Main
1. Gay, Mike – 34L 8:02.849
2. Rieck, Gunner – 33L 8:14.144
3. Estaban BBQ Baquero – 31L 8:00.468
2wd Truck saw TQ Ted Stryker lead the first 3 laps before giving the lead to Phil "The Joker" Raus, with Jack EvanChik in 3rd. Raus and Stryker swapped a couple more times before Stryker took a commanding lead to the end of an epic race with Raus and EvanChik rounding out the Podium.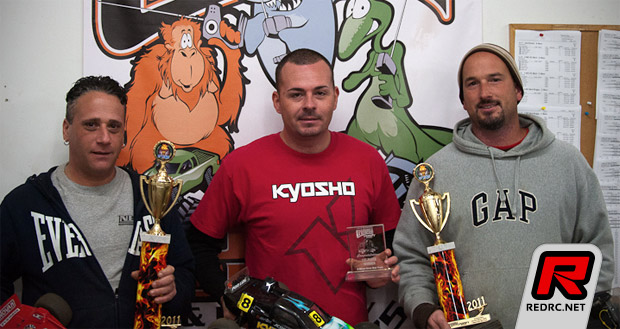 2wd truck mod A Main
1. Stryker, Ted – 29L 8:02.450
2. Raus, Phil The Joker – 29L 8:11.816
3. Evanchik, Jack – 28L 8:14.116
4wd SC was the last race of the day and one of the most anticipated races. Top Qualifier Aja again led from the start. With some lap 1 carnage, Jay Zellner starting from 6th came thru as 2nd with Toby Hamson in 3rd to complete lap 1. Zellner bobbled on he pipe allowing Hamson thru for 2nd, with Estaban "BBQ" Baquero taking the 3rd place spot. Hamson fell back to 4th after a bobble on the pipe but fought his way back to 2nd to complete the race, with Baquero holding onto 3rd.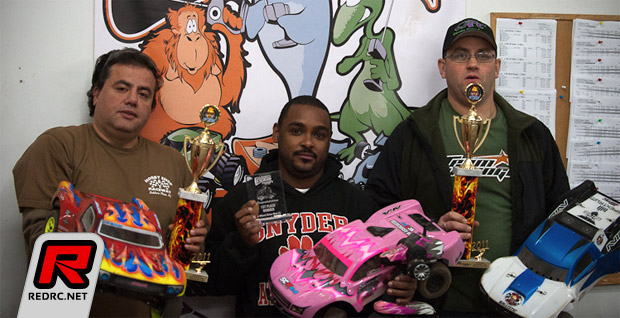 4wd SC Mod A Main
1. Aja – 32L 8:02.909
2. Hamson, Toby – 32L 8:10.386
3. Estaban BBQ Baquero – 31L 8:20.733
In the SC 2WD A-main, Top Qualifier Aja led from the start with Angelo Padilla in 2nd until mechanical failure caused Angelo to retire after 20 laps, allowing Ken Lee who had a rough start to take 2nd. (B-main) Bump-up Jack Evanchik came in with a solid 3rd place finish.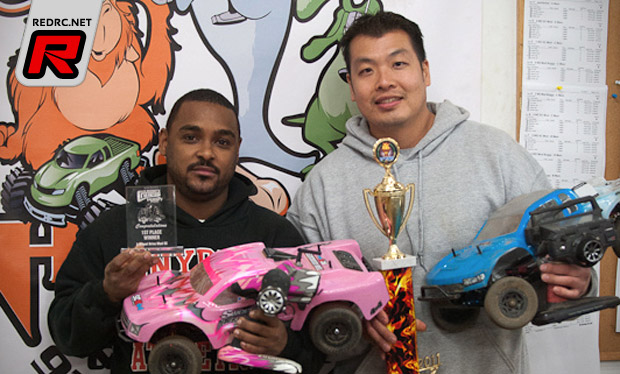 2wd SC Mod A Main
1. Aja – 30L 8:15.020
2. Lee, Ken – 29L 8:09.722
3. Evanchik, Jack – 29L 8:13.699
In the Sportsman class Top Qualifier Peter M. leading the opening laps. Peter gave up the lead three quarters of the way through the race to Cameron M. with Emil B bringing home the 3rd place Trophy.
Sportsman A Main
1. M. Cameron – 15L 5:05.176
2. M. Peter – 15L 5:07.929
3. B. Emil – 13L 5:12.802
Thanks to Toby Hamson for the report.
---