December 16, 2011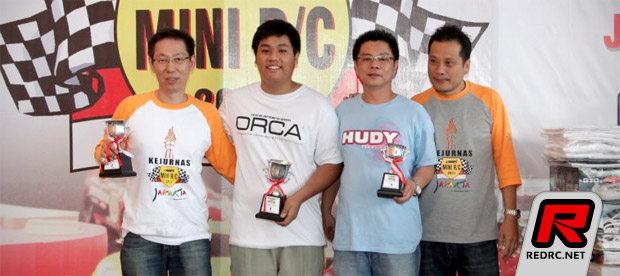 The final round of Mini Z Indonesian National championship was held in Pluit Village. Held over two days, Saturday and Sunday. The race week was started with Modified class. 36 drivers participated in this class to set up their pace for Sunday's primary Pro-Stock Class. It was Bowie Ginting took the TQ spot that posted the only 28 laps in the race, followed by Aswin Narwandi with 26 laps then Budi Lukman, Kris Heriyana and Akai Lim. For the A final it was run over three rounds with the two best rounds counted. Bowie took the wins in the first two legs with a two lap gap in front of Aswin. He also took the last leg, but Budi clearly took 2nd in that leg to secure the last step of podium behind Aswin.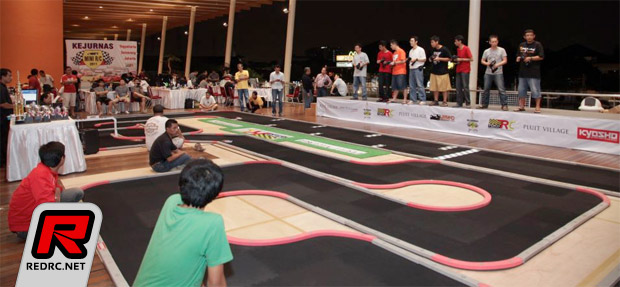 On Sunday there were 64 drivers who participated in the Pro Stock race. Also making an overseas trip, there were four Singapore drivers including Alvin Lim, Singapore's Mini-Z hero and also PNWC Asean Regional Champion. At 08.00 AM, all drivers packed their handout Kyosho X Speed Motor from the organizer and the race organizers also did a scrutineering procedure according to PNWC World Championship rules.
The race ran eight groups and the system was different from the previous day's race. There were 4 rounds of qualifying from which the 3 best rounds would be counted. The main final will be ran on 1×8 minutes for all main. It was Bowie Ginting who made a constant 27 laps in every round to bering his three best rounds to 81 laps. followed by National series standings leader Akai Lim with 79 laps. Hendry Widjaja, Aswin Narwandi and Budi Lukman completed the top 5.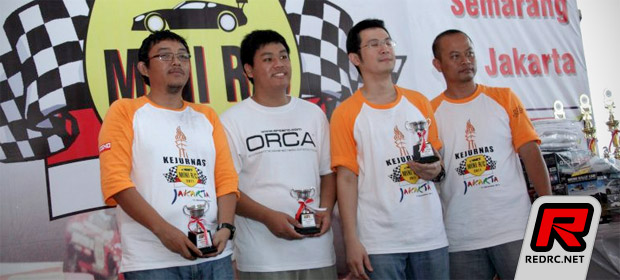 In the A Main Bowie made a gap from Akai Lim and had a one lap advantage from Akai who was second at five minutes. Bowie made his effort to win the race and dominated the weekend. It was a great show between Hendry Widjaja, Manda Prima, Aswin Narwandi and Budi Lukman battling for 3rd place. Unfortunately, Budi lost his front tyre nut and Manda and Aswin made contact letting Hendry cross the finish line in 3rd behind Akai.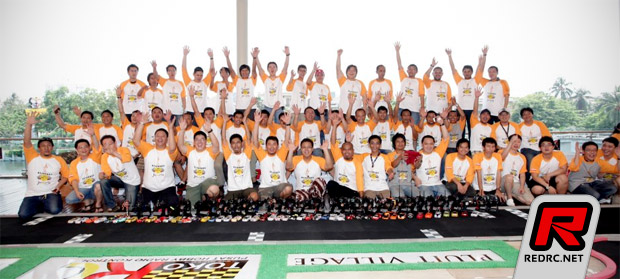 With this result, Akai Lim was declared as Mini-Z Indonesian National Champion 2011 with Hendry Widjaja being Vice National Champion.
Modified Result :
1. Bowie Ginting (TQ) (Kyosho MR-03/Ferrari F430/Atomic AD Stock/KO Propo Eurus)
2. Aswin Narwandi (Kyosho MR-03/Ferrari F430/Kyosho X Speed/KO Propo Eurus)
3. Budi Lukman (Kyosho MR-03/Honda NSX Super GT/Atomic Stock R/Futaba 3PK)
ProStock Result :
1. Bowie Ginting (TQ) (Kyosho MR-03/Ferrari F430/KO Propo Eurus)
2. Akai Lim (Kyosho AWD MA-010/Ferrari 360 GTC/KO Propo Helios)
3. Hendry Widjaja (Kyosho MR-03/Ferrari F430/KO Propo Eurus)
Thanks to Bowie Ginting for the report.
---