January 17, 2012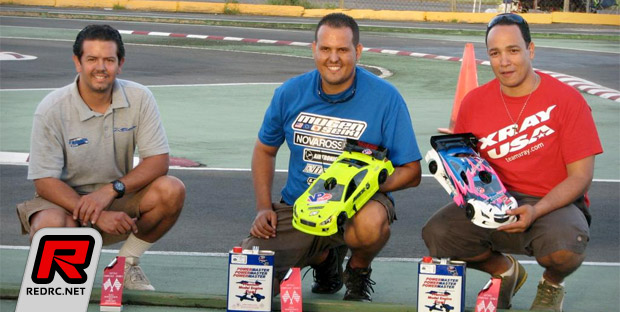 After a wet start the organisers took the time to get the track back into top condition for the first round of the Nitro On Road series in Barceloneta. This championship is made up of 6 races and in qualifying it was Xray driver José Martínez that took the TQ honors in the Sedan Class with 14 laps in 5:08. In the main it was Xray driver Juan Rodriguez who took the lead of the 40 minutes main, but with 8 minutes to go Juan started to have tire problems and it was Andy Báez who took the lead and would eventually win the race with his MTX5.
1. Andy Báez – 104L 40:19 (MTX5)
2. Juan Rodríguez – 102L 40:09 (NT1)
3. Emilio García – 96L 39:56 (NT1)
4. Norberto Rodríguez – 92L 40:07 (NT1)
5. Juan C Rivera – 78L 35:35 (NT1)
6. Franco Machado – 62L 26:34 (Capricorn)
7. Edgar Tirado – 44L 25:37 (Serpent)
8. Geovanni González – 39L 15:38 (NT1)
9. José Martínez – 4L 1:37 (NT1)
10.Fernando Méndez – DNS (MTX5)
In the GT Class was Fernando Méndez racing a Kyosho GT1 who took the TQ honors with 12 laps in 5:05. During the main Angel Santiago driving a Kyosho GT1 took the lead at the 6th minute and would remain in first position until the end followed by Alejandro Rodríguez driving an Ofna DM1 and Hilton Martinez who also drove a Ofna DM1.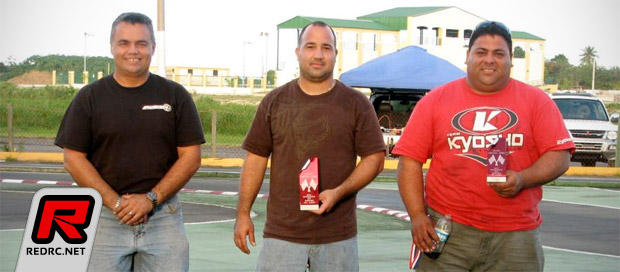 1. Angel Santiago – 88L 40:19 (Kyosho GT)
2. Alejandro Rodriguez – 85L 40:09 (Ofna DM1)
3. Hilton Martínez – 84L 40:22 (Ofna DM1)
4. Zobeida Ocasio – 79L 40:05 (Kyosho GT2)
5. Carlos Sánchez – 76L 40:32 (Ofna DM1)
6. Juan Chalas – 65L 40:36 (Kyosho GT)
7. Ricky Fuentes – 9L 4:37 (Kyosho GT2)
8. Fernando Méndez – DNS (Kyosho GT)
9. Eggie Betancourt JR. – DNS
Thanks to Zobeida Ocasio for the report.
---