January 12, 2012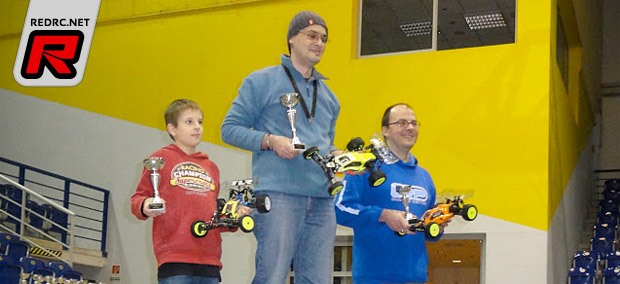 Team Unico Modellsport enjoyed an excellent performance last weekend at the sixth round of the National Championship at Dabas track as their drivers finished on the first three places in both Modified TC class with the Serpent S411 and the 2wd buggy class with the TLR22. 2wd buggy is a fully opened class and the heats are 7 minutes long. Almost every run was a spectacular race between well-established racer Cristian Faur from Romania and up and coming young talent Krisztian Arvai who already clinched the National Championship in the Truggy GP class earlier in the outdoor season with Cristian coming out on top in the end. Laszlo Gabor secured the last podium spot.
1. Cristian Faur – Losi 22 / Nosram / Nosram
2. Krisztian Arvai – Losi 22 / Nosram / Nosram
3. Laszlo Gabor – Losi 22 / LRP / LRP
With this victory Cristian Faur has already been crowned the Hungarian National Champion 2011-12 in the 2wd Buggy class.
The Modified touring class is run according to EFRA rules on controlled VTEC CPX tires but here the heats are also 7 minutes long instead of 5 minutes. Buggy classes also run together with Onroad on the same layout at parts of the track which prevents the grip to build up normally and feels inconsistent in these corners. Finding an easy and consistent but fast enough chassis setup for the whole 7 minutes is a challenge and the key for a good result. Cristian, Viktor and Gergely worked together really effectively to achieve the desired success.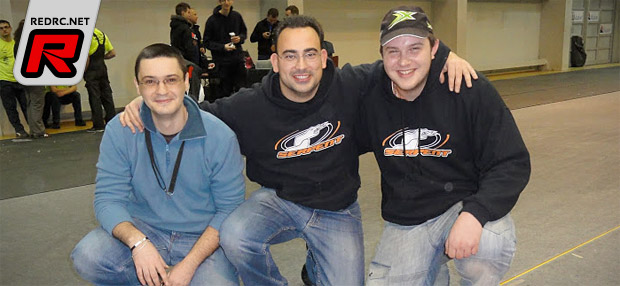 1. Gergely Cseko – Serpent S411 / GM / Nosram
2. Viktor Juhasz – Serpent S411 / GM / GM
3. Cristian Faur – Serpent S411 / LRP / LRP
With 4 wins so far Gergely only needs to achieve a 2nd place finish in the last 3 rounds to defend his title in the 2011-12 season also.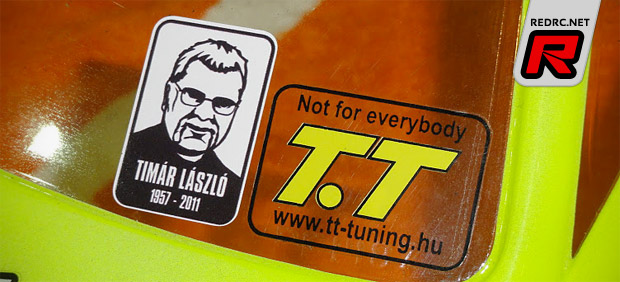 At this event drivers also remembered Timar "T.T" Laszlo, the man behind T.T Tuning company, well-known from his special tools and custom made parts in the European nitro onroad scene, who suddenly passed away in December last year. Our condolences go to his wife and two sons and those who knew him.
Source: Unico [unico.hu]
---