January 20, 2012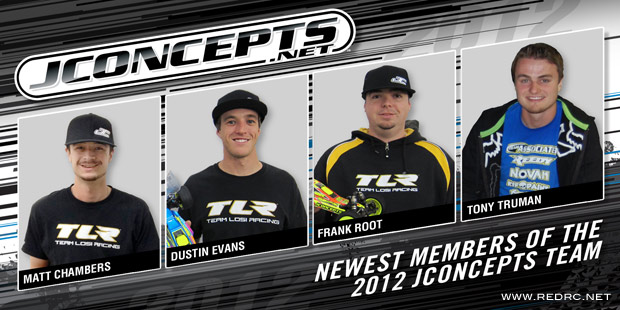 Recently JConcepts have added a number of super star drivers to their already strong racing team. Driver's like TLR's Matt Chamber and Dustin Evans as well as Frank Root and UK-based Tony Truman will add a vast amount of experience. Matt Chambers reaches agreement in 2012 to run the JConcepts tire line.  The Denver, Colorado based TLR driver does his weekly racing at the Mile High R/C track while readying to strike at large events all over the World.

TLR's Dustin Evans struck early and often in 2011 with an Invitational victory at the Reedy International Race of Champions and maintained his winning ways at races such as the Short Course Showdown, JConcepts Fall Indoor Nationals and Hot Rod Shootout. Dustin peaked during the ROAR Off-Road Nationals where he was able to take home the prestigious 2WD modified National Championship. Dustin will begin a busy 2012 race season for TLR/JConcepts as he looks to repeat at the Reedy Race of Champions and then immediately turn his attention to the Dirt Nitro Challenge where he will make a 2012 1/8th off-road debut while he readies for the IFMAR World Championships later this year.
Southern California's Frank Root will begin 2012 as one of the favourites in the Open class at the Reedy International Race of Champions and a returning champion to Southern California's popular, Jimmy Babcock Racing League. UK based driver Tony Truman has signed with the JConcepts Racing Team. A dedicated driver on the circuit, Tony has established himself as a multifaceted driver specialising in 1/10th and 1/8th off-road. In 2011, Tony made a complete trek around attending many regional and national events in the UK and also attended large European based events such as Neobuggy and the 1/8th Euros.
Source: JConcepts [jconcepts.net]
---