February 11, 2012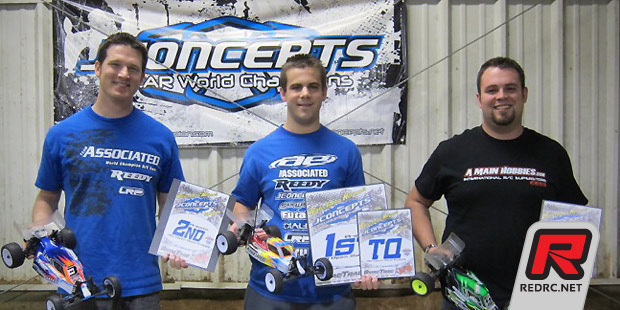 For the 3rd year in a row racers made their way to Smac Trac raceway in St. Louis, MO for the JConcepts Winter Indoor Nationals. A record turnout of 371 entries filled the building and the pit area was in a constant buzz of excitement. The amazingly prepped track by Scott McDonald featured the best layout in the short history of the event which produced some extremely close racing and challenged even the best drivers in attendance.

Team Associated/JConcepts driver Steven Hartson came in with his sights set on victory. The young driver from Southern California has a knack for indoor racing and quickly showed in qualifying what he was capable of by TQ'ing all 3 of his classes (2wd modified, 4wd modified and 4×4 SCT) in the first round of qualifying. The wet sticky track conditions and corrugated piping at Smac Trac takes a very disciplined driving style which lent itself well to a select group. By the 3rd round of qualifying Steven had all but wrapped up multiple TQ's on his way to the best starting positions possible.
Brent Thielke was the driver to beat in modified truck and 1/8th E-buggy racking up numerous TQ's with smooth consistent runs earning his place at the top of the field and #1 grid position for Sundays main events. Local driver Justin Driemeier was the driver to beat in the Short Course modified class with his JConcepts equipped SCX-60 CF as he dominated qualifying taking the overall TQ. He was prepared and ready and it showed in his performance.
With the large turnout, qualifying extended deep into the night on Saturday but the racers were not affected and wrenched their way into the night and everyone was ready and willing for qualifying to resume on Sunday morning.   The last round of qualifying finished around noon on Sunday and with the main events were printed. 68 individual heats made up the main events with all classes being treated to triple A-mains. After a lunch break and some rest and recuperation the main events started with drivers all bumping into position and working their way into the A-main with some coming from as low as the C-main to take a birth in the A-main.
2wd Modified
Leading off in the modified buggy class it was Steven Hartson taking an A1 victory by a comfortable margin. The extra work Steven had put in practice was beginning to show and he was completely on point in the first main. In A2 Steven made a small mistake on the first double jump and took a weird bounce but he maintained his lead. Chris Baumgartner, Brent Thielke and others all made a run at Steven but could not get within striking distance.   Steven took A2 and wrapped up the overall victory for Team Associated and JConcepts. A3 began with Brent Thielke leading out for several laps with Chris Baumgartner in 2nd and Matt Gosch, 3rd. A small mistake by Thielke allowed Matt Gosch to use his speed and take the lead. Matt ran his best race of the day and pulled away to the end taking A3 in style. The final overall finishing order was Steven Hartson 1st, Chris Baumgartner 2nd and Matt Gosch 3rd.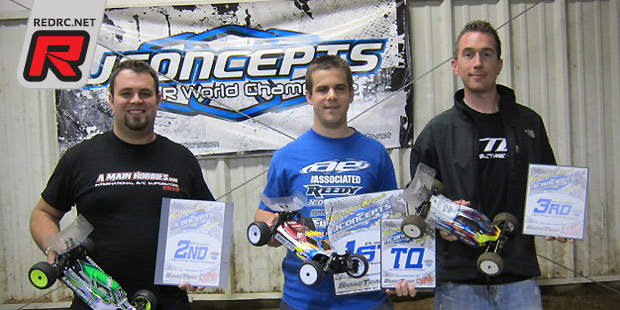 4wd Modified
The 4wd modified class was owned by Steven Hartson. Sitting on the TQ position Steven wasted little time getting off to a fantastic start in A1 and maintained a steady pace pulling a gap on the field and took the main relatively easily. The start of A2 began very similar to the first main but this time Hartson pulled an even better start and looked intent finishing things off in 2 mains. A lot of traffic and crashes took its toll on the field but Hartson's indoor savvy and experience allowed to him stay clean all the way to the finish taking A2 and the overall championship. In A3 it was Josh Wheeler coming through the pack battling his way to 1st place.  Finishing order in 4wd modified was Steven Hartson 1st, Matt Gosch 2nd and Josh Wheeler 3rd.
SCT modified
Justin Driemeier sat in the TQ position in the 2wd modified SCT class with Ben Ellis 2nd and Tanner Denney 3rd. In A1 Justin broke out to a respectable lead and put down the same laps as he did in qualifying which allowed him to open up more room. Justin cruised in A1 and picked up an all important victory. A2 started exactly the same way as A1 but this time Tanner Denney managed to squeak by into 2nd place behind Justin. The 2 quickest drivers in the main events battled back and forth rubbing fenders on many occasions but with just 1 lap to go Tanner got by and into 1st place and held it to the finish. JP Richards finished 2nd and Justin would settle for 3rd.
A3 was shaping up as a battle between Justin and Tanner for the overall.  At the tone, both drivers got great starts and began stretching the gap on the competition. Justin looked firmly in control, running the smoothest laps, but Tanner was driving on the edge with a spectacular style in the 180 degree turns and jump sections. The two drivers appeared to be very close in speed and only small mistakes would alter the running gap. As the race wore on it was Tanner who made a mistake with traffic and allowed Justin to open up a sizeable lead. Tanner pushed it very hard to catch but broke the truck while playing catch-up and would force him out of competition. Justin cruised home for the easy victory taking the overall 1st place. The overall finishing order, Justin Driemeier 1st place, JP Richards 2nd and Ben Ellis 3rd.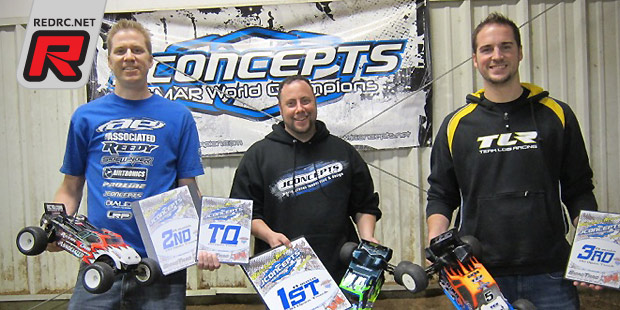 Modified truck
The modified truck TQ Brent Thielke took the early lead in A1 but made a small mistake very early shuffling him back into the pack. Texas driver Mike Stoll took advantage of the start and looked to take an easy A1 victory. Mike made quick work of A1 and finished it off in 1st place. A2 got underway with Thielke getting a much better start. Brent drove a great race start to finish setting up a showdown for the 3rd and final main to determine the champion. At the tone in A3 Thielke got another great start and started to settle into a comfortable lead. Mike Stoll who was in contention for the overall had a decent start to the main and battled in the top 3. Brent made an uncharacteristic mistake which took valuable time and Mike Stoll took the lead. Mike was now firmly in control as Brent suffered another small mistake setting him back into the field. It was Mike Stoll's day as he crossed the line taking the overall championship in modified truck. Brent Thielke finished 2nd overall and Ben Ellis 3rd.
1/8th E-buggy
TQ driver Brent Thielke with the new RC8.2e appeared on point all weekend.   As the vehicles staged for the start of A1 Thielke took the quick start and looked confident as he pushed the e-buggy to perfection on the high-grip Smac Trac surface. Brent took A1 in convincing fashion and backed it up with another victory in A2 to secure the overall championship.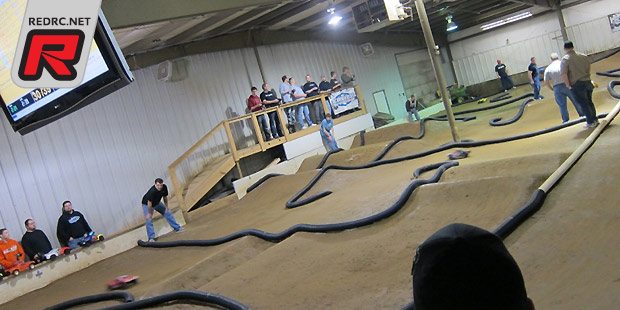 A huge thank you must go out to Scott McDonald, the entire cast and crew behind Smac Trac raceway and event sponsor JConcepts. Truly an amazing event with a record turnout proves St. Louis, MO is the place to be during the first weekend in February. Please note, round 2 of the JConcepts Indoor National Series is April 14-15, 2012 at Mikes Hobby Shop in Carrollton, TX.   
Source: JConcepts [jconcepts.net]
---