February 14, 2012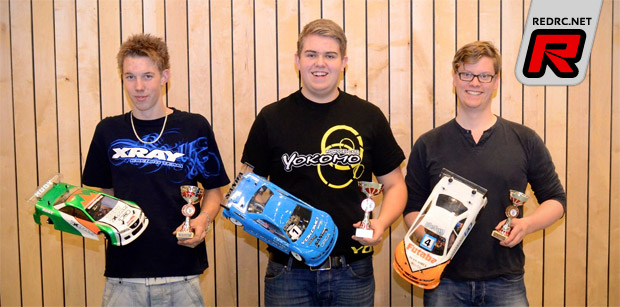 The 3rd round of the 2011/2012 Norwegian indoor series was held in Spydeberg last weekend and Adrian Bernsten sent us this report. We saw a 600m2 big track with a pretty techinal layout with lots of low-speed corners as well as the traction was not that high. After testing different tires, the tires to be used were Sorex 28. On Saturday we had a practice race before the "real race" on Sunday. This is to get enough practice and lot of traction in the carpet. This race was won by me, in front of Petter Berntsen and Oyvind Stusdal in 3rd.
On Sunday the traction was much higher than on Saturday so my car felt much easier to drive. Already on the first laps in the first qualifier I had improved the lap record by 0,2 sec. I won the first two out of three qualification rounds in front of Petter Berntsen, while Petter won the last one as I had to stop. Still I took the TQ for the finals in front of Petter Berntsen in 2nd and Marius Nicolaisen in 3rd.
In the first final I pulled away and basically led from start to the end, lapping the entire field taking the win in front of Petter in 2nd and Christer Antonsen in 3rd. The second final was going to be much more interesting than the first, as in the middle of the race I made a huge mistake and landed on the roof allowing Petter to take the lead. Still, I managed to overtake him after the 5-minute mark I won both the final, four seconds in front of Petter, and the race overall. Oyvind Stusdal took 3rd this final.
In the last final Petter had decided to do whatever he could to go down to my pace and drive the same laptimes I had been doing during the race so far. As the final went off, Petter overtook the lead after I traction rolled in the second corner. This lasted until he made a mistake actually on the same lap allowing me to take the lead back. Unfortunately for Petter, his rear shock fell of, forcing him to stop after the 2 minute mark of the race. Still he had improved his fastest lap time by 0,3 sec from 13,7 to 13,4. I cruised into victory, setting the fastest lap time of the whole event on my second last lap, driving 13,2. Oyvind Stusdal took 2nd in this final, securing top 3 overall, with Roger Berntsen, father of Petter, taking the 3rd spot of the final.
Top 3 overall
1. Adrian Berntsen – Yokomo/Orca
2. Petter Berntsen – Xray/Orca
3. Oyvind Stusdal – Xray Xray/LRP
Thanks to Adrian Bernsten for the report.
---