February 5, 2012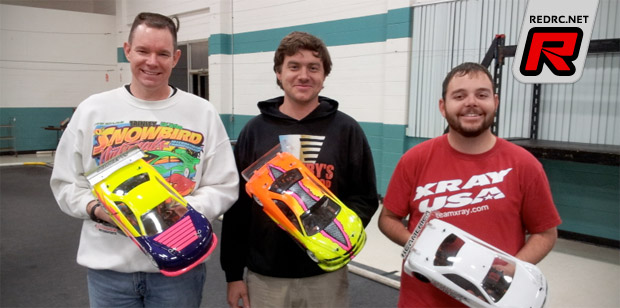 Round 4 of the FSEARA (Florida State Electric Auto Racing Association) took place at Minnreg in Largo, FL. Minnreg is an indoor carpet track, one of the few in Florida. Every year, Mike Boylan hosts this race as the warm up to the annual Snowbird Nationals in Orlando, FL and this warm up race attracted many locals & out of town racers. From Friday to Sunday, there are both oval & on road events to prepare for the 400+ entry Snowbird Nationals. This on road event alone had about 70+ entries, making this an important on road race to attend.
In Stock Touring, the 2010 ROAR National Champion Mark Burt was able to use his "very old" equipment to grab the TQ over the current Stock Touring point leader Kyle Eden. Mark Burt's smooth driving style allowed him to set the bench mark in qualifying, but Kyle was just a couple of seconds behind Mark. In the A final, Mark Burt was able to hold off Kyle's intense charges. Kyle had the faster car in both speed & cornering, but every time Kyle got close to Mark, the smallest mistake cost Kyle. In the end, it was Xray 1 & 2, with Mark winning the race, Kyle in second place, just 3 seconds behind and Eddie Shaffer finishing 3rd.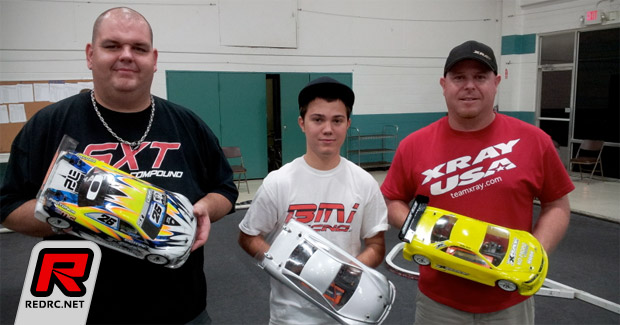 In Pro Stock Touring, it was another battle of the Xrays. Young Xray team driver Cory Parsons set a blistering pace in qualifying with a 32 lap run, taking the TQ. Cory was followed closely by 2nd qualifier Austin Harrison and 3rd qualifier Dave Bowser, another Xray team driver. In the A final, the top 3 qualifiers had a great start, with a tight battle between all 3. While the back of the pack were having some issues, Bobby Horan slipped by for the 4th position. Out in front, Cory continued to lead, while Austin made a mistake and got stuck on a pipe, Dave took advantage and moved to 2nd. A few laps later, Austin made another mistake and flew off the track, allowing Bobby to grab 3rd. Cory Parsons took the win, beating his own TQ run from qualifying, with Dave Bowser finishing 2nd and Bobby Horan finishing 3rd.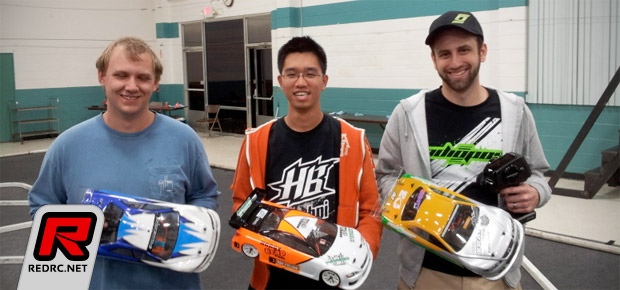 In Modified Touring, it was the battle between Austin Harrison vs Hot Bodies team driver Felix Law all weekend. In qualifying, Austin was able to put down an impressive run in the 2nd round of qualifying, taking TQ honors with a 4 second lead on Felix Law. Michael Bruce qualified 3rd, with a gap between him and Felix. In the A final, Felix was bumper to bumper against Austin. 4 laps into the race, both drivers hit lapped traffic. Felix saw an opening while Austin dodged traffic, and Felix made a pass after the switch back. Around the same time, Xray team driver T.J. Lathrop made a pass on Michael Bruce for the 3rd position. After passing Austin, Felix continued to pull away from the field. By the 4 minute mark Austin made a charge to catch Felix but a small mistake didn't allow him to get by Felix. In the end Felix Law finished 1st with Austin Harrison 2nd and T.J. Lathrop 3rd.
Source: Hobby Crap [hobbycrap.com]
---