February 21, 2012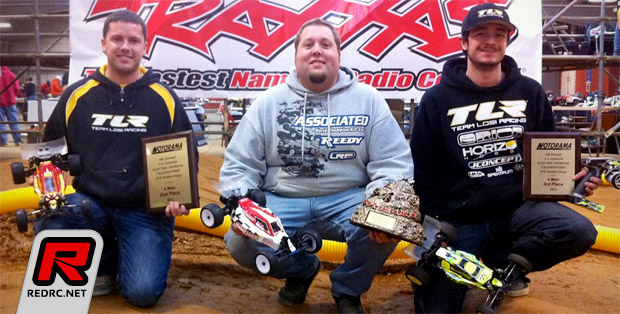 Thousands of spectators flocked to the 2012 Motorama event watching and participating in everything from motocross to karting to sprints and RC. The event featured two different racing tracks. One was designed for competition among traditional 1:10 offroad vehicles including 2WD buggies, 4WD buggies, and stadium trucks on a clay surface. The other, larger track featured racing for 1:8 electric buggies and truggies along with 2WD and 4WD Short Course. With spectators filing through the event throughout the two-day period, many were witnessing competitive remote-control car racing for the first time.
On the 1:10 track, Chad Due was on fire with his Team Associated B4.1 WE and B44.1 buggies, taking the victory in the two premier classes on that track, 2WD and 4WD Modified. Chad used Reedy LiPo batteries and Reedy Sonic motors combined with LRP SXX V2 speed controls to bring home the double victory. Also taking a class victory in 17.5 Stadium Truck with his Reedy Sonic/LRP-powered Team Associated T4.1 was Dave Duncan from JConcepts.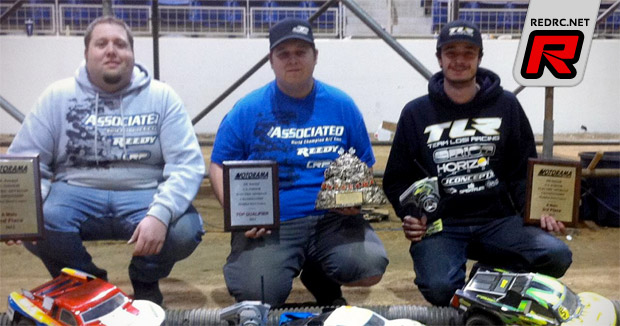 Not to be left out of the winner's circle was one of Team Associated's latest signings, Max Flurer. Max took his FT SC10 truck to the top step of the podium and backed up his top-qualifying effort with a victory in the 2WD Modified Short Course class on the larger 1:8 track. Max also used a Reedy 5500 mAh 60C battery and a Reedy Sonic 7.5 motor with a LRP SXX V2 speed control to power him to victory.
Congratulations also goes out to podium finishers Steven Hartson (4WD Buggy), Chad Due (2WD Modified Short Course) and Brent Thielke (1:8 Expert eBuggy). With such a large opportunity to showcase RC cars to a massive group of potential customers, Motorama represents an event unlike any other. If you have the opportunity to attend, it's a highly recommended experience to interact with people discovering the fun of remote-control cars for the first time.
Source: Associated [rc10.com]
---