February 29, 2012
Last weekend the East Coast Carpet regionals were held at the MRH Raceway in Baltimore/MD. The race unofficially began on Friday. Racers started pouring in before the store even opened to try and get as much practice as possible. Friday evening laid host to a small club race so that some out-of -owners could get acquainted with the track and be fresh for the Saturday marathon of racing. The real fun started on Saturday, practice began promptly at 8am and the track filled immediately with cars from all the offered classes; 13.5 WGT, Stock TC, Stock 12th, and F1. The goal of the race was to provide a warm up for the carpet nationals in Texas, so the class structure followed what ROAR had laid out. This structure proved to be popular, as all the classes were sufficiently filled with a wide talent range. 3 qualifiers were ran in traditional format and the mains concluded around 11PM. Racers had a great time, some visiting us from up to a 6 hours drive away. We all are looking forward to next years event, and hope to make it bigger and better than the last.
Top 3 results 1/12 17.5
1. Larry Fairtrace
2. Robbie Dodge
3. Mike Herald Sr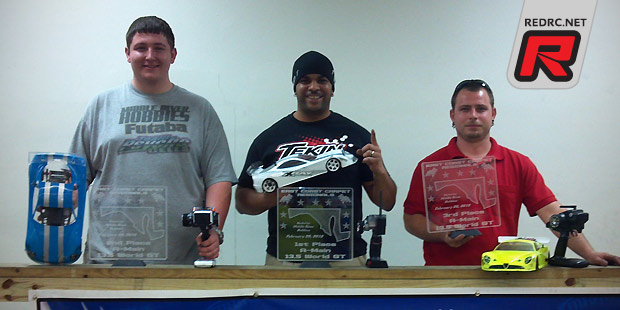 Top 3 results WGT 13.5
1. Mark Murgia
2. Matt Ross
3. Chris Hicks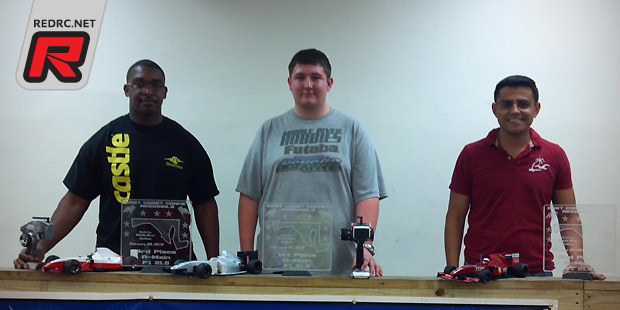 Top 3 results F-1 Rubber
1. Matt Ross
2. Manny Flores
3. Denmark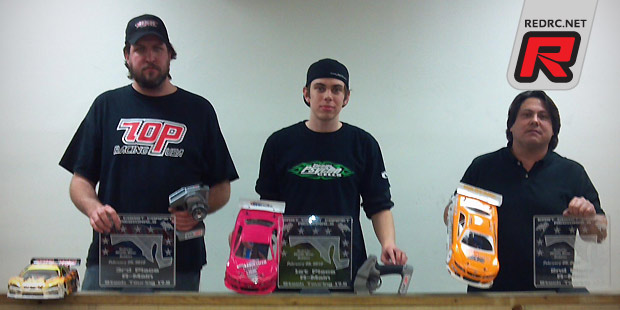 Top 3 results 17.5 touring
1. Mike Gee
2. Ray Klebanow
3. Larry Fairtrace
Many thanks to Gordon of Middle River Hobbies for sending the report.
---