February 15, 2012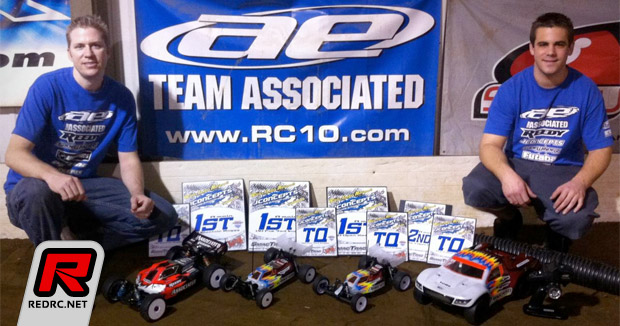 Now in its second year, the JConcepts Indoor National tour makes its first stop in St. Louis, MO, at the popular SmacTrac facility. Greeted by 370+ entries for the two-day event, racers were pumped to get the series underway at the competitive indoor clay facility. With a track size of roughly 90′ x 40′, the racing was tight and heated throughout the classes. Team Associated/LRP/Reedy driver Steven Hartson made his first trip to St. Louis and quickly proved he had the speed to sit at the top of the field. Taking the top qualifying position in 2WD Modified, 4WD Modified and 4WD Short Course, the California native was in prime position for an event sweep. Also joining him at the front of the field was Brent Thielke and his Reedy/LRP-powered T4.1 and RC8.2e in the Truck Modified and 1:8 eBuggy classes.
With four rounds of qualifying and triple A Mains, the event stretched to late Sunday night and early Monday morning to crown the champions. With victories in A1 and A2 of 2WD Modified, 4WD Modified and 1:8 eBuggy, Hartson and Thielke claimed three titles for Team Associated before the event was even over. A hard-fought battle from Hartson with local Josh Wheeler in the 4WD Short Course class saw him come up just a bit short of claiming a third victory on the weekend and Hartson had to settle for the second step of the podium in the 4WD Short Course class. A similar story played out for Thielke in Truck Modified where he had a mechanical failure in A3 and also had to settle for second overall.
A special thanks goes out to the SmacTrac crew, JConcepts, and the other event sponsors for putting together a great event that has grown in popularity with each stop. Next up for the tour is the JConcepts Spring Indoor Nationals in Carrollton, TX, at Mike's Hobby Shop.
Source: Associated [teamassociated.com]
---