February 15, 2012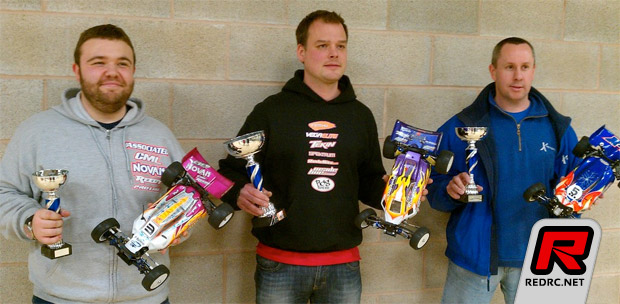 Last weekend the BRCA Winter off-road championship was run and Kevin Lee sent us this report. After an ok result in 2wd on Saturday, I started Sunday with the Lazer with some confidence, It felt really good from practice and I was right on the pace straight away. I didn't change anything from the previous week at EIR Belgium except for the tyres being mini pin rather than spikes.
In the first round I went 7th with a couple of errors so I knew that I had the pace to challenge the front if I went clean. I didn't change anything for round 2 except for raising the ride height a fraction, and with Tony Evdoka's words in my head of "stop driving at 120%!!!" I went out and did a much more sensible run and went 2nd in round, which secured my A final placing. In the 3rd I made a mistake on the first table top and ended up well down the field, so just used the run to explore some different lines and find out where I could push. In round 4 I managed a clean run and another 2nd in round which put me 4th on the grid over all.
I chose to put new tyres on for the first leg as the tyres used in qualifying were not going to last 3 legs. In round 1 the car felt a little twitchy and I made a couple of errors which put me down a few positions finally coming in 7th. However, towards the end of the run it started to feel really good as the tyres bedded in, and my laps were easily on the pace.
I went into the 2nd leg feeling confident with the car and after some close racing I managed to take the lead after a mistake from Tom Cockerill. I had a lot of pressure from Tom for the last few laps but just managed to keep it in front and take the leg win.
Leg 3 would prove to be the decider, Tom Yardy and Ellis Stafford were my closet rivals with Tony Truman and Lloyd Storey having an outside chance to win the meeting, so I knew who I had to beat if I was going to win. The final started very clean and apart from a couple of moves it was a train of about 8 cars for 4 minutes of the race, I've never know anything like it. Unfortunately I had lost a place to Ellis, and Tom was also sitting a couple of places in front of me so it was a frustrating time not being able to find a way up the order. In the last minute the train broke up a little and I found myself in 3rd behind Ellis with Darren Bloomfield out front. It was now the last lap and Ellis seemed too far away for me to catch him but he made an error and once marshaled I was right behind him with about 3 corners to go. I managed to stay with him and got a good line onto the table top before the start finish straight where Ellis left enough room for me to cut in on the inside. I punched the throttle and just edged in front of him over the loop by 0.002 seconds.
Source: Kyosho [kyoshoeurope.com]
---