February 6, 2012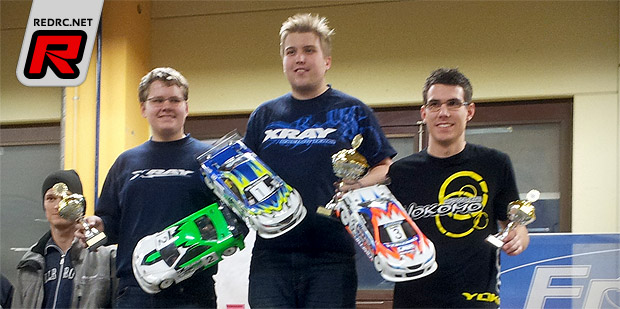 The fifth round of the South Swedish Indoor Cup was held on an indoor track, in Växjö, southern Sweden. The track saw some low grip and a fairly easy layout but it was hard to drive fast on. After three rounds of qualifying Niclas Nilsson took TQ followed closely by Markus Hellquist and Daniel Carlsson, only 2 seconds separating those 3 drivers. In the opening final there was a good race between Niclas, Markus and Daniel. None of them was able to stretch the lead or overtake so the order stayed the same though Daniel was only 4 tenths of a second from taking second.
Leg two Niclas had a bad start which allowed Markus and Daniel to come through, Markus won in ront of Daniel and Niklas who took third. Leg three would decide the race victory and it now stood between Niclas and Markus, who both had 1 win each, But the third final saw a great start, all three cars on a row all the way into the 4 minute mark where Markus hit Niclas and waited for him and Daniel go through to take the win followed by Niclas and Markus. After three thrilling finals it was not just Niclas and Markus that was fighting for the win, All top three drivers had one win, one second and one third each. The deciding fact would be who had the fastest run. And there Niclas won, on fastest win, Markus second after fastest win by only 9 tenths. Super tight and super fun race with a good atmosphere.
Final standings with all top three drivers on same points.
1. Niclas Nilsson – Xray/LRP/Thunder Power/Thunder Power
2. Markus Hellquist – Xray/GM/GM/GM
3. Daniel Carlsson – Yokomo/LRP/LRP/LRP
Thanks to Daniel Carlsson for the report.
---