February 15, 2012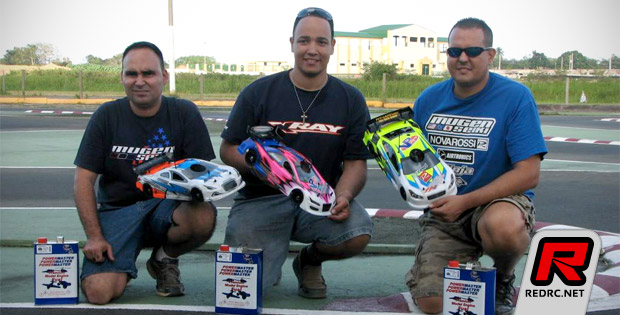 The second round of the Puerto Rican Nitro On-Road Series took place last weekend at the Barceloneta RC Track and it was Andy Báez with his MTX5 who set the TQ with 14 laps in 5:09.382. In the 45 minutes race the battle for the first position started early when Juan Rodríguez, Andy Báez and Guillermo Camacho started to swap positions in the first 15 minutes of the race. A bad pit stop for Camacho took him from the lead, bumping Fernando Méndez and his MTX5 into third. RC America driver Juan took the lead from that point and was followed home by Andy and Fernando.
1. Juan C Rodriguez – 118L 45:13.309 (Xray NT1)
2. Andy Báez – 117L 45:08.119 (Mugen MTX5) (TQ)
3. Fernando Méndez – 114L 45:01.981 (Mugen MTX5)
4. Emilio García – 112L 45:00.533 (Xray NT1)
5. Guillermo Camacho – 112L 45:09.982 (Xray NT1)
6. Franco Machado – 109L 43:54.281 (Capricorn Lab)
7. Antonio Mellado – 106L 45:11.192 (Xray NT1)
8. Norberto Rodríguez – 93L 45:12.125 (Xray NT1)
9. Juan C Rivera – 84L 45:14.177 (Xray NT1)
10.Juan C. Aguirre – 11L 14 7:35.893 (Xray NT1)
11.José A. Martínez – 5L 1:56.669 (Xray NT1)
12.Junito Yukiyú – DNS (Xray NT1)
With the Ipanema World Championship around the corner there was some 1/10th racers trying the GT Class. An example was Geovanni González who set the TQ with 13 laps in 5:23.012 with a Kyosho GT2. In the 45 minutes final, González took the lead for half of the race but some mechanical problems took him out the race. In the end it was Samuel Zayas driving an Ofna DM1 who finished in first position, followed by Hilton Martínez in second and Angel Caballero in third.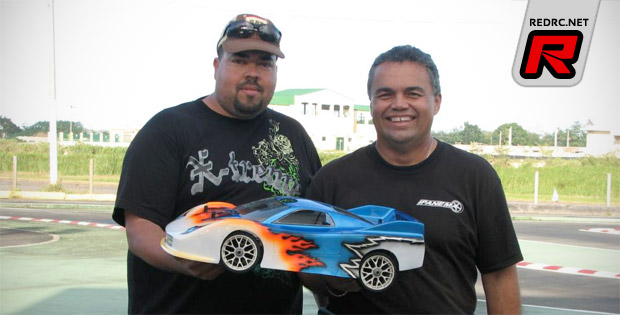 1. Samuel Zayas – 101L 45:01.131 (Ofna DM1)
2. Hilton Martínez – 99L 45:19.466 (Ofna DM1)
3. Ángel Caballero – 86L 45:24.285 (Ofna DM1)
4. Juan Chalas – 80L 45:01.164 (Ofna DM1)
5. Rene Diaz – 79L 44:30.680 (Ofna DM1)
6. Jaime E. Negrón – 73L 35:46.961 (Kyosho GT2)
7. Ricky Fuentes – 73L 42:19.135 (Kyosho GT2)
8. Geovannie González – 62L 26:48.716 (Kyosho GT2) (TQ)
9. Erick Ortíz – 36L 28:13.766 (Ofna DM1)
10.Angel Santiago – 29L 16:34.468 (Kyosho GT2)
11.Zobeida Ocasio – DNS (Kyosho GT2)
12.Iván Vázquez – DNS (Ofna DM1)
Thanks to Zobeida Ocasio for the report.
---