February 2, 2012
The DX2E from Spektrum is the perfect answer for any surface enthusiast looking for their first upgrade into the world of 2.4GHz technology. Powered by Spektrum 2.4GHz technology, the DX2E offers class-leading signal assurance at a wallet-friendly and budget conscious price point. Until now, those wanting the reassurance and convenience of 2.4GHz technology have been unable to benefit from Spektrum technology at this price point meaning that they'd either have to settle for something else or spend more. Now though with the DX2E, Spektrum have redressed the balance, making their marine-compatible patented surface DSM signal transmission available for the first time at this price-point driven end of the market.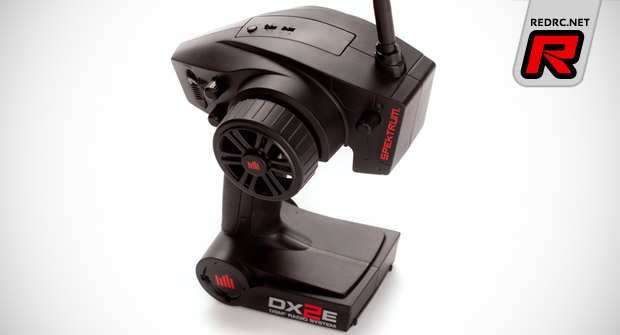 Elegantly simple in design and detail, the DX2E has all of the basic functions required of any surface transmitter; featuring 2 channel operation and including servo reversing, adjustable steering rates and featuring an interchangeable grip design to enable users to optimise the fit of their transmitter to the size of their hand. It still retains the unmistakable look and feel of the other, higher priced Spektrum transmitters but now finished in a fuel-proof attractive matte black for a slick and professional look.
The DX2E is available as a combo that includes the new 2-channel SR200 receiver making it the ideal upgrade or replacement for RTR 27MHz equipment or for those enthusiasts wanting to benefit from Spektrum technology without breaking the bank.
Key Features
– DSM, DSM2 and Marine compatible
– Servo reversing
– Throttle and Steering Trim Dials
– Steering rate dial
– Low battery voltage warning LED
– Fuel-proof case

Specifications
Channels: 2
Modulation: DSM, DSM2™ and Marine
Band: 2.4GHz
Transmitter Battery Type: 4x AA Alkaline (not included)
Source: Horizon Hobby UK [horizonhobby.co.uk]
---