February 4, 2012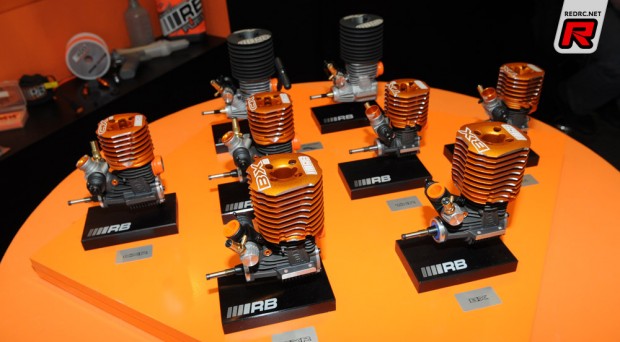 RB have their new line of Xtrem engines on show with a simplified naming structure and reduced number of motors. In the buggy line up there is the new BX, a 5+2 port .21 engine with a 14.5mm crankshaft and CNC machined piston. The BXR is the high end version of this motor with balanced and lightened crankshaft and ceramic main bearing. For on road there is the CX which is a 9+2 .21 port engine again with 14.5mm crankshaft and CNC machined piston. It is also available as an R version with 2 additional lubrication holes, ceramic bearing and lightened balanced crankshaft. Finally for 1/10 touring there is the TX which has 3 ports and an 11.9mm crankshaft and the R version has the extra lubrication holes in the liner as well as the additional R benefits of the other engines.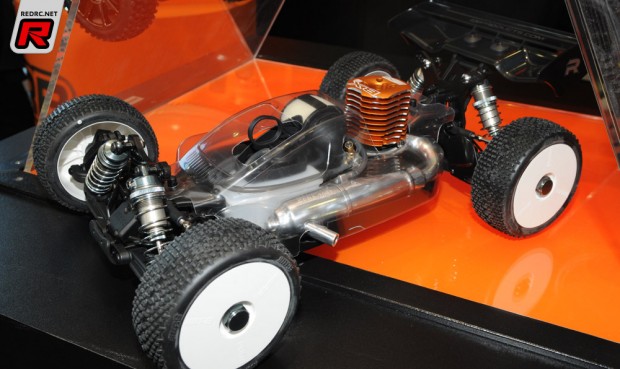 On the car front RB have their new competition based RB One R 1/8th scale buggy. It has a machined and hard anodised chassis plate with carbon shock towers front (5mm) and rear (4mm), carbon brake discs, racing geometry & adjustability and 16mm aluminium big bore shocks, CVD shafts throughout and 3 differentials with conical gears. Other items of note are the CNC machined aluminium engine monoblock and centre diff mounts and to top it off there is an all new body shell. There is also a prototype of the new brushless version of the car called the E One R and while it shares many of the same parts as the One R it is not ready to show.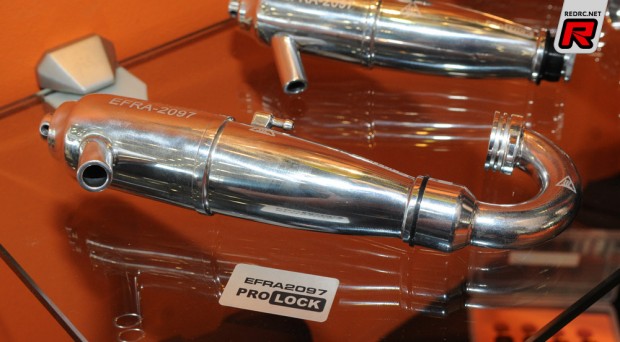 Other new items on the booth is the company's Pro Lock exhaust system that does away with the need for the small exhaust springs between the manifold and the pipe. Shown here on the new 2097 offroad pipe it is a simple twist and lock movement and this removes all distortion and seals this connection  perfectly. There are also new V3 turbo glow plugs made with new wire which improves stationary RPM and last longer. Their line of fuel will also get an updated oil mixture. For working on the engines there is the new ball bearing extraction tool set which comes with the adaptor for 3 different sizes. Finally there is a new 4000mAh LiPo batter with Venom multi connector and a new line of tire balancing putty.
Image Gallery
---