February 28, 2012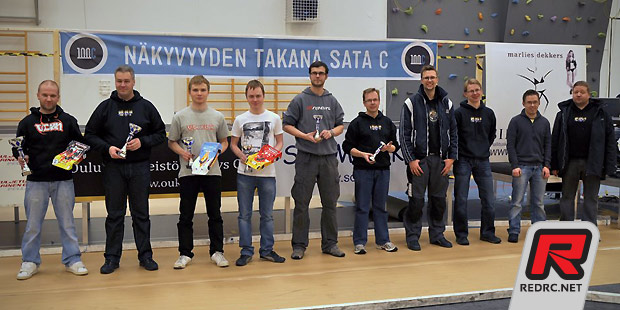 The 2nd round of the Finnish 1/12 scale national series, the FinTrack Tour, took place in Oulu, Northern Finland last weekend. The organising club OSPA will host the 2012 Nordic Challenge for both 1/12 and Touring cars in October as well as hosting the 2013 1/12 Euros. The race combined both 1/12 and touring classes as an exception as for many years the classes have been run separated to get more suitable conditions for both type of racing. A total of 97 drivers signed in for the weekend to race. The track saw a technical layout suitable for Saturdays's 1/12 racing in the mod and spec class.

The entry list saw many top names with Team CRC lead by Teemu Saarinen, with many other top names and Finnish champions from both on and off-road classes like V-Dezign driver Panu Vehniainen and Miko Teponoja, Pekka Koivula, Miko Teponoja, Jarno Siltanen and of course the winner from the two previous rounds of Nats and Snowbirds 2012 Modified A finalist, Vesa Yli made all the way up to Oulu. In the spec class all the top driver made an appearance, including recent winner Janne Valtanen with his Carpet Ripper V.
After qualifying it was Vesa Yli who took his 3rd TQ spot in a row at the nationals starting with the 4th round of last year series. Teemu Saarinen got in to 2nd place followed closely by Panu Vehniainen. Miko Teponoja backed-up the Ripper crew with a 4th place. In the spec class Janne Valtanen TQ'd, with Miika Laurila in 2nd place, followed by Janne Aspinen, another Ripper driver. Antti 'Mr. Snowbirds multiple final winner' Luoto started from 5th place-
Come the finals it was Vesa who took the overall win after the second A main and secured full points from the race followed by Teemu Saarinen and Panu Vehniainen in 3rd with Miko Teponoja in strong 4th place finish. In the spec class Miika Laurila had strong final runs and took the win ahead of Janne Valtanen and Janne Aspinen, both running Carpet Ripper V. With two meetings to go Vesa Yli is leading in modified and Janne Valtanen keeping the top spot in spec class followed by Janne Aspinen in 3rd place. The next round takes place in Nokia, close to city of Tampere.
Modified results:
1. Vesa Yli
2. Teemu Saarinen
3. Panu Vehniäinen
4. Miko Teponoja
5. Pekka Koivula
6. Tony Raikas
7. Lari Jäppinen
8. Jarno Siltanen
9. Miika Rinne
10.Sami Munck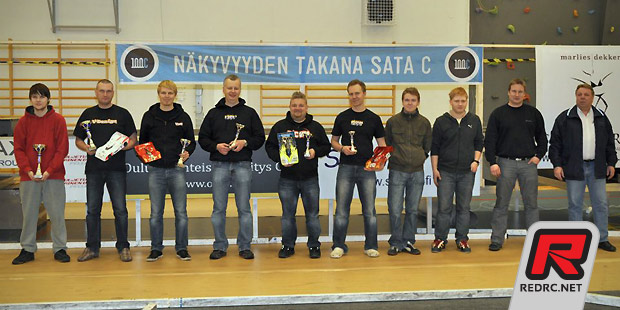 Spec results:
1. Miika Laurila
2. Janne Valtanen
3. Janne Aspinen
4. Pasi Lento
5. Antti Luoto
6. Marko Vähäkuopus
7. Markku Rinne
8. Janne Liinkangas
9. Miikka Rahikainen
10. Sami Haapsaari
Source: V-Dezign [v-dezign.net]
---