March 28, 2012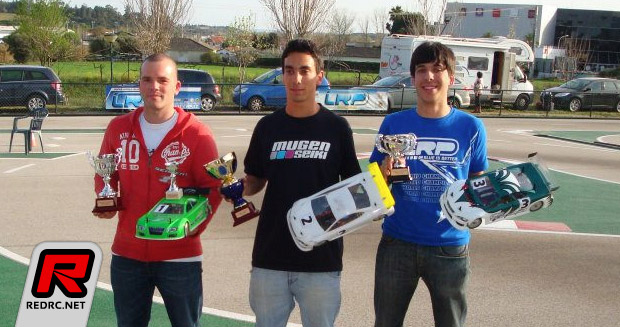 The first round of the Portuguese Electric Touring Cars (Mod and 10.5T Stock) took place last weekend in the town of Torres Novas at Mini Autódromo de Torres Novas, host of EFRA 2013 European Electric Championships. 37 drivers attended the race. On Sunday the day was just amazing with clear sky and good temperature with good grips conditions. In the Mod class Bruno Coelho set a new record for qualifying reaching 20 laps in 5m15.97, but the TQ went to Hugo Miguel after wining 2 of the 4 qualifying sessions. Bruno Coelho and João M. Martinho qualified 2nd and 3rd.
The finals of Mod Class were just great. Hugo Miguel won the first, Bruno Coelho the second, and the decision went to the last A Final. Bruno Coelho, Hugo Miguel, João M. Martinho and Bernardo Cosme raced one of the most exciting finals, but in the end, Bruno took the win with less than a second in front of Martinho, and secured 1st position overall.
Mod Class Top 3
1. Bruno Coelho (Xray / LRP)
2. Hugo Miguel (Serpent / Speed Passion)
3. João M. Martinho (Yokomo / LRP)
In 10.5T Stock the TQ went to Fernando Cardoso, with 0 points winning 3 of the 4 qualifying sessions, followed by Mário Ribeiro with 2 points and Bruno Antunes 6 points.
In the finals the battle was between Fernando Cardoso and Mário Ribeiro. Fernando won the first final, Ribeiro the second, bringing the decision for the 1st place to the last run. After a bad start from Ribeiro, Cardoso took advantage and pulled a gap but the 7 minutes allowed Ribeiro to recover some space, but in the end Fernando Cardoso won the 3rd final with less than 2 seconds advantage over Ribeiro. In the battle for the 3rd position Bruno Antunes and João Oliveira had good fights, but Oliveira took advantage of a DNF for Antunes in run 2, and secured the third spot of the podium with a 3rd place in run 3.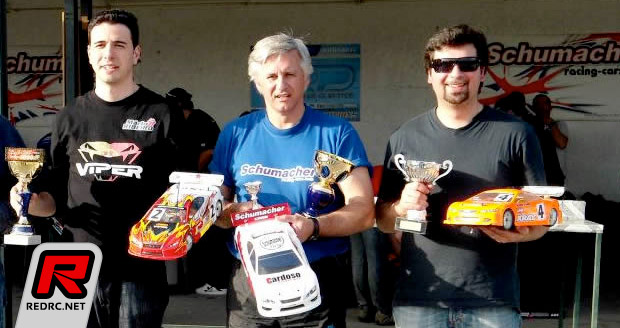 10.5T Stock Class Top 3
1. Fernando Cardoso (Schumacher / LRP)
2. Mário Ribeiro (Team Associated / Viper R/C)
3. João Oliveira (Xray / Speed Passion)
Thanks to Mário Ribeiro for the report
---