March 6, 2012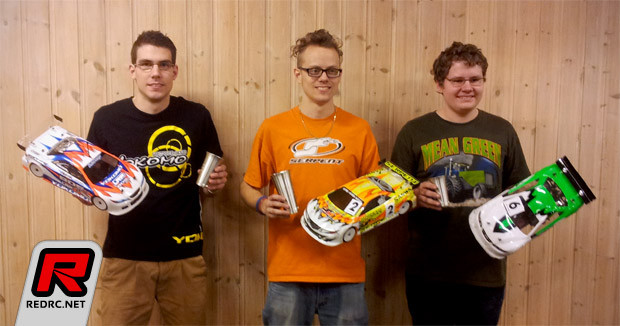 The sixth and final round of the South Swedish Indoor Cup was held in Gothenburg and 30 drivers attended in the Modified class, which is quite good for this time of the season. The track saw some low grip and a tight and very technical layout making it very hard to go fast. After three rounds of qualifying Niclas Nilsson took TQ followed closely by Michael Nilsson and super talented Niklas Johansson, normally driving 1/8 onroad. After some nice qualifying we made it into the finals.
In the opening final there was a good race between Niclas and Michael in the beginning, Niklas took the win ahead of Michael Nilsson, third spot went to Daniel Carlsson after a hard fight up the field, who only managed to qualify fifth on this technical track. Leg two Niclas won with a 2 second margin to Michael and Niklas Johansson made a strong third place in this one. In leg three Niclas Nilsson just cruised to an easy victory, Michael and Niklas had a really nice and intense battle that in the end went Niklas Johanssons way. Niclas Nilsson took the win in front of Michael Nilsson in 2nd and Niklas Johansson in 3rd. The final standings in the championship (photo above) saw Serpent driver Michael Nilsson take the title in front of Yokomo driver Daniel Carlsson in 2nd with Xray racer Markus Hellquis 3rd.
Thanks to Daniel Carlsson for the report.
---