March 6, 2012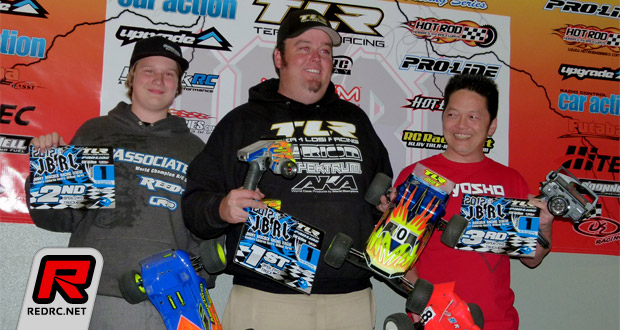 Round 1 of the annual Jimmy Babcock Racing League kicked off their electric series this weekend at OCRC Raceway in Huntington Beach, California. The Season started with an amazing record breaking 385 entries. TLR was in attendance with many top drivers including Mike Truhe, Cody Turner, Team Manager Kevin Gahan, Ryan Dunford, Casper and Nick Lasley. Our organization is thrilled to see the Stadium Truck class coming back strong this year with many TLR 22T trucks present and as well with a lot of new racers attending the series. TLR factory driver Mike Truhe earned the win in Mod Truck by TQing both rounds of Qualifying and leading the pack from start to finish in the A-main with his Orion powered TLR 22T Stadium Truck.
In the Pro 4 Short Course class Ryan Dunford would start second on the grid for the 6min A-main event that started around 2am in the morning. Dunford would make the pass for the lead on the first lap and never looked back taking the win with his Orion Powered Losi Ten-SCTE.
In the Mod buggy class Cody Turner was the man to beat in the A-main after TQing both rounds of qualifying with his TLR 22 buggy. The first lap was rough and put Cody on his lid, Cody's determination helped him recover and finished in an impressive 2nd place. Team mate Mike Truhe would round out the top five with his Orion powered TLR 22 buggy.
In Pro 2 TLR driver Cody Turner TQ'd both rounds of qualifying in with his Losi XXX-SCT but had a problem in the warm up for the A-main that would keep him out of the race.
Source: TLR [tlracing.com]
---