April 25, 2012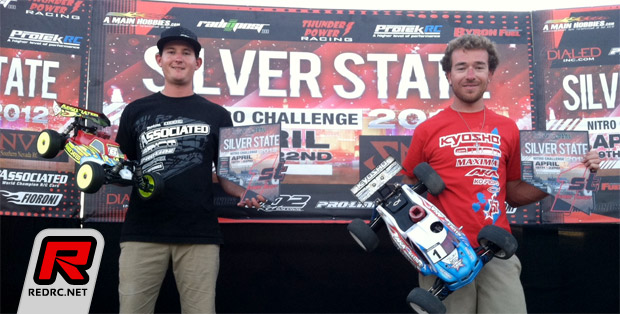 The 2012 Silver State Nitro Challenge was once again held just 30 minutes outside of Fabulous Las Vegas, Nevada in Boulder City. This years event was held April 19th-22nd with scortching temperatures in the upper 90's even reaching to the 100's throughout the week. Team Orion would be very well represented at this years Silver State with Jared Tebo just coming off his big Neo12 win, current ROAR Buggy National Champion Ryan Cavalieri, and Current Buggy World Champion Cody King.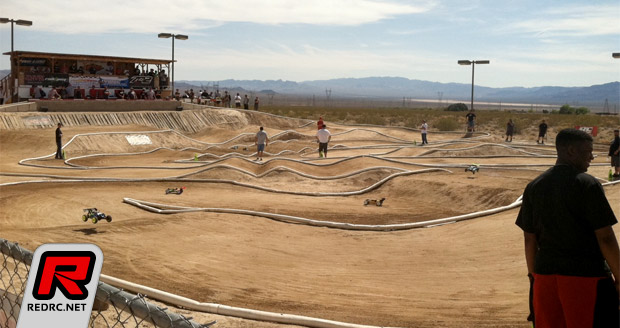 Pro Truggy Qualifying
It was Team Orion/Kyosho Factory Driver Jared Tebo who would dominate qualifying by TQ'ing all 3 rounds to take the overall TQ. Team Orion/AE's Ryan Cavalieri would qualify 4th overall, and Team Orion/Kyosho's Cody King 9th overall.
Pro Truggy A-Main Event
The Pro Truggy A-Main Event was set for 45-Minutes. At the sound of the tone, Tebo got a great jump off the line with his Team Orion powered ST-RR Evo. After the first couple laps were complete, it was Tebo leading AE's Ryan Maifield, Hot Bodies Ty Tessman, and his Team Orion teammate Cavalieri. The racing would be very close for the next 10-minutes, then Tebo and Cavalieri began to pull away from the field. At the halfway point of the Main, it was now Cavalieri with a 12-second lead over Tebo. Tebo who was fast all weekend long put his head down and began to put in very fast and consistant laps to catch Cavalieri. With 8-minutes to go, Tebo was able to work his way by Cavalieri and pull away. Tebo was the only driver to make it by for the extra lap making him the 2012 Silver State Truggy Champion! Cavalieri would hold on for 2nd overall putting in a great drive and would also give Team Orion the top 2 spots on the podium.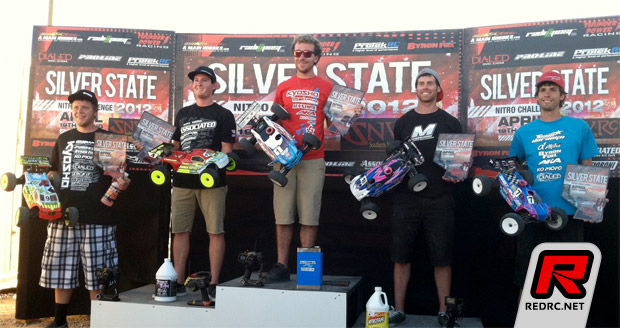 Pro Truggy Overall Finishing Order:
1. Jared Tebo (TQ) – Team Orion
2. Ryan Cavalieri – Team Orion
3. Taylor Peterson – Alpha
4. Cody King – Team Orion
5. Ryan Lutz – Alpha
6. Ty Tessman – OS
7. Dylan Rodriguez – OS
8. Jeremy Kortz – Werks
9. Mark Pavidis – OS
10.Adam Drake – Nova-Rossi
11.Jesse Robbers – OS
12.Ryan Maifield – LRP
13.Ryan Lopez – Nova-Rossi
14.Matt Castellano – OS
Pro Buggy Qualifying
In the 1/8 Pro Buggy Class, it was once again Team Orion/Kyosho's Jared Tebo who went onto TQ all 3 rounds of qualifying to guarantee him the #1 starting position. Team Orion/Kyosho's Cody King would qualify 4th overall and Team Orion/AE's Ryan Cavalieri 6th overall.
Pro Buggy A-Main Event
The 1/8 Pro Bruggy A-Main Event was also set for 45-Minutes. As the tone went off, it was Jared Tebo getting the holeshot and leading the field around for lap 1. As the first round of pit stops began, it was Tebo leading, Maifield in 2nd, and Cavalieri 3rd. Tebo would suffer a big setback just after the first round of pit stops and fall back to 10th. Maifield would take over the lead with Cavalieri in 2nd and now Tessman in 3rd. Reaching the halfway point of the A-Main, it was now Maifield taking over the race lead with Cavalieri 8-seconds back and Tessman still in 3rd. With about 10-minutes left Maifield was still leading, but now by less than 1-second over Cavalieri. Tebo has put in an impressive drive to get back up into the top 3. With 8-minutes to go, Cavalieri was able to get by Maifield and stretch out a 5-second lead that he would hold all the way to the checkered flag! Maifield would finish 2nd with Tebo finishing up a great weekend in 3rd and once again putting 2 Team Orion Engines on the Podium!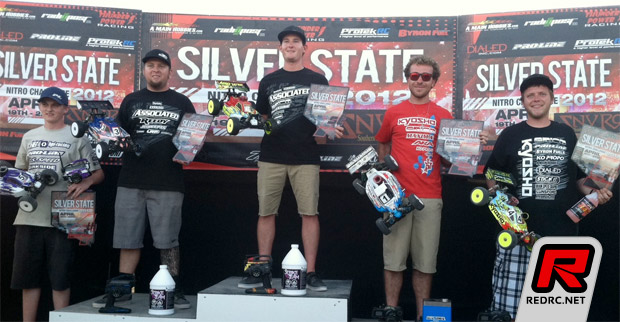 Pro Buggy Overall Finishing Order:
1. Ryan Cavalieri – Team Orion
2. Ryan Maifield – LRP
3. Jared Tebo (TQ) – Team Orion
4. Ty Tessman – OS
5. Cody King – Team Orion
6. Adam Drake – Nova-Rossi
7. Chad Bradley – Werks
8. Carson Wernimont – OS
9. Matt Castellano – OS
10.Ryan Lopez – Nova-Rossi
11.Mark Pavidis – OS
12.Jeremy Kortz – Werks
13.Dylan Rodriguez – OS
14.Richard Saxton – Reedy
Source: Team Orion [teamorion.com]
---