April 30, 2012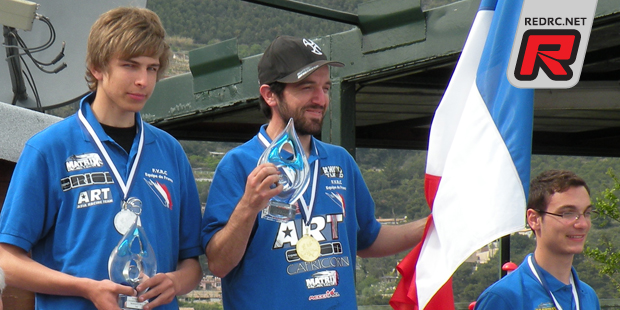 Last weekend saw the start of EFRA's summer Euros calendar with the 200mm European Championship B in Monaco and we received the following report from EFRA. Only a small number of drivers made it to the event with the actual reason for this is hard to tell. Partly it could be because of the tire issues, but there might be other reasons also. The class in general is having its difficulties, due to its complexity and you see more 1/10th scale drivers move to 1/8th. The scenery in Monaco, with its track against the mountains near La Turbie, is quite amazing and the organizer had made all efforts to welcome the drivers to this EC-B.

The track itself was prepared with sugar water and although a majority  drivers were using treatment, there were also drivers not using anything at all and the difference was marginal. Six qualifying rounds were driven on Friday and it was no surprise that the French team had a good number of drivers in front. At the end Frederic Bourillon took pole, with Leo Arnold second, Michele Perniciaro third and Quentin Leroux fourth. With the absence of direct qualifiers all pilots had to go to the semis, with the top four managed to remain on top of the time sheets.
The final saw a battle between Bourillon and Arnold from the first minutes, however after approximately 12 minutes Tragott Schar from Switzerland came into the lead due to his 5 minute pit stop interval. He managed gain a lap till halfway but with 20 minutes to go he made a tire change that cost him a tremendous amount of time and that let him drop back down to seventh place. All other drivers except one opted to dismiss a tire change meaning that is was Frederic Bourillon who took the win one lap ahead of Leo Arnold. Quentin Leroux managed to take the last podium spot and Tragott Schar finally came back with a 4th place. This gave the following results:
1. Frederic Bourillon/France – KM Racing/Orion – 160L 45.10.359
2. Leo Arnold/France – Capricorn/Orion – 159L 45.05.946
3. Quentin Leroux/France – Capricorn/Orion – 159L 45.13.420
4. Tragott Schar/Switzerland – Xray/Picco – 158L 45.12.929
5. Nicolas Rosado/France – Capricorn/Orion – 156L 45.03.997
6. Michel Perniciaro/Italy – Capricorn/Capricorn – 155L 45.08.752
7. David Thomas/France – Xray/R&B – 151L 45.03.467
8. Eric Gnemis/Monaco – Kyosho/Novarossi – 150L 44.43.916
9. Stephnae Campourcy/France – Xray/R&B – 150L 45.02.679
10.Mattia Collavo/Italy – Xray/Sirio – 147L 45.08.237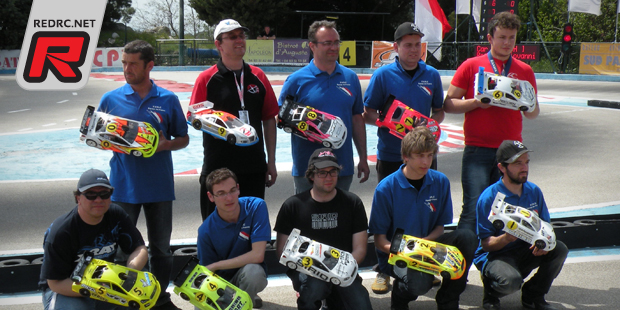 Overall it was a very nice event with very good driving and a well deserved win for the French Team.
Many thanks to Sander de Graaf for the report.
---