April 28, 2012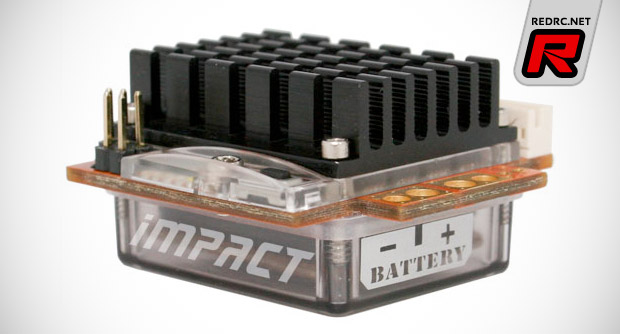 Novak Electronics is introducing the smallest, most complete and feature-packed brushless ESC to date, the Impact Racing Brushless ESC with X-Drive. This pure, sensor-based brushless racing ESC is designed to accommodate the extreme demands of electric 2WD 1/10th scale off-road racing, the tight confines of 1/12th pan car racing, and is perfect for nearly all 1S and 2S LiPo racing classes. The Impact features Novak's X-Drive for ultimate driving performance, and Novak's new Super-Tuner firmware for faster set-up changes and more adjustability than ever before.
– Full-Coverage Heat Sink. For proper heat dissipation, the Impact features a full-coverage heat sink that is cross-cut and makes direct contact with all 24, ultra-low RDS-on, dual-cool power MOSFETs. Whether you are doing extended practice runs, or in a wheel-to-wheel battle, the heat sink is the first line of defense against heat build-up. Additionally, the heat sink is designed to accommodate the included cooling fan.
– Designed to Last. A silicone-gasket between the case and PCB provides protection against dirt, debris and moisture. The Impact is built to take the abuse that racing can dish out.
– Heavy-Duty, High-Power PCB. The Impact uses an extremely small, but shockingly heavy-duty PCB that is embedded with thick, pure-copper traces to ensure your ESC performs at its best with minimal losses.
– Ready to install. The Impact comes factory-wired with 14-gauge silicone battery and motor power wires that are easy to replace for factory-like, re-wire jobs. These power wires don't just have a 14 printed on them─ they are top-quality, Novak Super-Flex wires.
Source: Novak [teamnovak.com]
---