April 9, 2012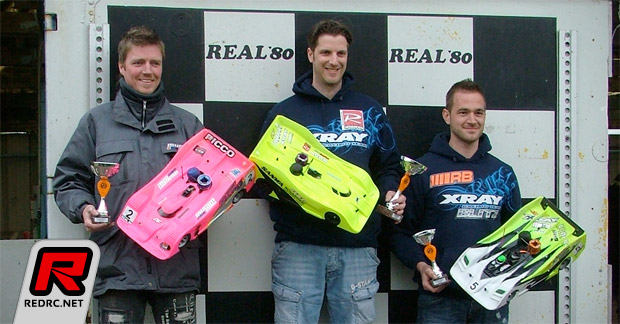 Last weekend saw the season opener of the Dutch 1/8 onroad nationals on the very bumpy REAL80 track in Groningen. With a big shift of drivers over the winter there was many new names again, giving an entry of 54 drivers. The weekend started very cold and wet but on the Sunday there was finally nice weather. With a drying track most drivers decided not to run the 1st qualifying session. At the start of the 2nd series the track still had some wet spots making it difficult to set fast times, so the last session was needed to set a time without errors.
In the NK class it was Rick V driving an Xray taking pole with the only 30 lap time folowed by Steven Cuypers, Robin D'Hondt and Gunther v. Stay. In the final it was Rick V straight into the lead and he never let it go. Steven Cuyper was right on his tail followed by John Ermen, Gunther and Robin fighting for the 3rd place. Both Robin and Gunther had some troubles and had to retire from the race gifting John Ermen the 3rd spot.
NK class final results:
1. Rick Vrielijnck – 123L 30:04.935
2. Steven Cuypers – 123L 30:10.389
3. John Ermen – 121L 30:07.481
4. Arie Manten – 118L 30:14.667
5. Joey Sorber – 116L 30:13.341
6. Frank Baggen – 115L 30:09.055
7. Daan Haling – 115L 30:11.102
8. Arco de Jong – 113L 30:03.227
9. Gunther van Steay – 84L 23:55.065
10.Robin D'Hondt – 74L 19:59.405
In the NOMAC class it was nice to see that Danny Leewis still had it in his fingers setting pole after a 2 year break. He was folowed by John Lenaers, Andy Muijres and Marc Meijer. Danny had a clear start and was running the lead the whole time but suddenly had problems with radio interference and had to retire. Ruud Knoester and Patrick van Nieuwehuyse were on their way for a podium place but they also had to retire with problems.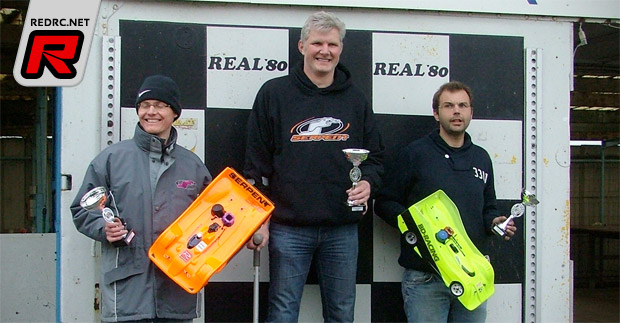 NOMAC class final results:
1. Marc Meijer – 112L 30:02.609
2. Mark Hellenbrand – 109L 30:05.313
3. John Lenaers – 107L 30:19.034
4. Mario Gerssen – 104L 30:17.134
5. Andy Muijres – 95L 30:13.192
6. Ad Arents – 92L 30:08.525
7. Benny Ciere – 88L 24:41.503
8. Patrick Vanieuwenhuyse – 64L 17:11.157
9. Ruud Knoester – 57L 15:10.496
10.Danny Leewis – 43L 11:01.684
Thanks to Roelof Tooms for the report.
---