April 27, 2012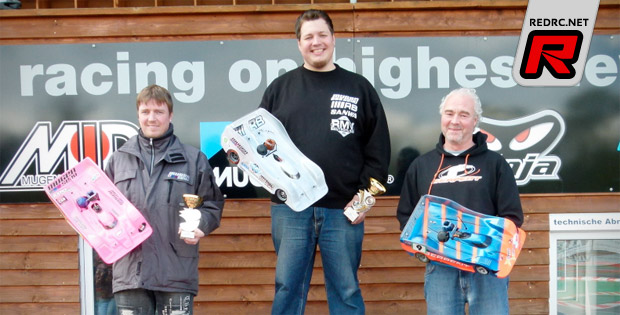 It was April weather with both rain and sunshine together that greeted the West German 1/8 nitro on-road racers who kicked-off their season at Hamm last weekend. At the end of the race day it was Thilo-Alexander Toedtmann who braved the elements, the Mugen/RB racer taking his very first victory in class 1 following his triumph winning the 2011 German class 2 Championship.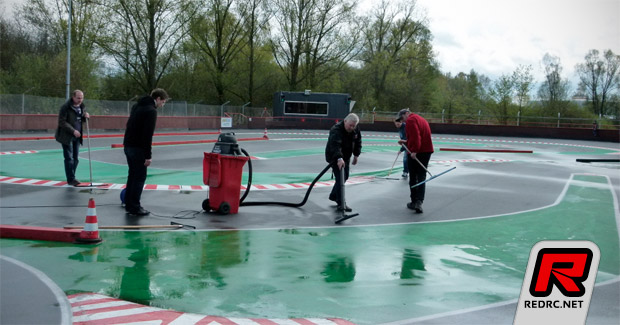 The forecast was bad for the weekend and unfortunately it was correct. On Saturday morning a damp track welcomed the competitors (a total of 33 entries). It was drying up slowly and when the first drivers entered the track for some few laps it started to rain. Once again it was plenty of time for another coffee and to talk about the world and his wife. Early afternoon it was close to dry up but dark clouds arrived and it was pouring down once again. Now it was time to bundle up to go home. On Sunday the track was really wet when the racers arrived. Some stayed in bed having seen the conditions on the webcam. Even the sun was out for some rare moments and the club AMC Hamm used their special water hoover, but the track was wet all day.
It was young Jean-Pierre Roenicke who took pole position with 13 laps, like the German Champion Steven Cuypers and Michael Salven did in second and third position. The duration of the heats in 2012 is five minutes, again there are no direct qualifiers. Further more, the minimum weight of the cars is 2400 grams and a venturi of maximum 8 millimeters is mandatory.
In the 20 minutes final Toedtmann took the lead already in lap one and held the first position until the end even he had to retire 13 seconds before the chequered flag. Only three drivers completed the race, Steven Cuypers, who was two laps down on Toedtmann, Ralf Vahrenkamp and Uwe Baldes, but all of them were hit by some troubles, mainly caused by water penetration on engine and electronics. Serpent racers Michael Salven, Karl-Heinz Meister and René Puepke decided not to start.
1/8 class 1 Western German Championship, round 1 at Hamm:
1. Thilo-Alexander Toedtmann (Mugen/RB) – 49 laps – 19:46.971 min.
2. Steven Cuypers (Mugen/Picco) – 47
3. Ralf Vahrenkamp (Serpent/Novarossi) – 46
4. Uwe Baldes (Mugen/Reds) – 35
5. Jean-Pierre Roenicke (Mugen/Orcan) – 28
6. Ingo Odenthal (Serpent/Sirio) – 5
7. Michael Salven (Serpent/Xceed) – dns
8. Karl-Heinz Meister (Serpent/Xceed) – dns
9. René Puepke (Serpent/Xceed) – dns
In class 2 Belgian Tim Vogels took pole position at his first start in the Western German Championship ahead of Matthias Guenther in his first race since 1999. In the final Vogels spun at the start and Guenther took over to lead the field until water took control of his electronics in lap nine. For the remaining race time Andreas Klaus was in the lead and extended the gap to eight laps at the finish line with Sebastian Scheidweiler coming home second and Thomas Reiche third. The jubilation of Andreas Klaus and his son was extremely infectious and even the sun had a rare appearance for this extraordinary moment.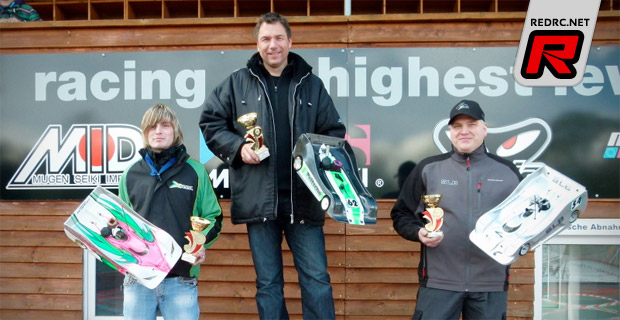 1/8 class 2 Western German Championship, round 1 at Hamm:
1. Andreas Klaus (Mugen/Reds) – 43 laps / 20:24.451 min.
2. Sebastian Scheidweiler (Serpent/Xceed) – 35
3. Thomas Reiche (Serpent/Orcan) – 28
4. Thomas Kroeger (Mugen/Novarossi) – 23
5. Martin Figge (Xray/Orcan) – 17
6. Matthias Guenther (Mugen/Novarossi) – 8
7. Tim Vogels (Mugen/Orcan) – 3
8. Christian Roenicke (Mugen/Novarossi) – dns
9. Michael Woeste (Xray/Orcan) – dns
10.Joachim Kuehn (Motonica/Picco) – dns
For round 2 the 1/8 hot shots will return to the mecca of rc racing in Western Germany at Oberhausen on 5/6 May. One week later round two of the 1/10 scale campaign including KWC and HC10 will be held at Dueren on 12/13 of May.
Source: nitro-west.de [nitro-west.de]
---