May 8, 2012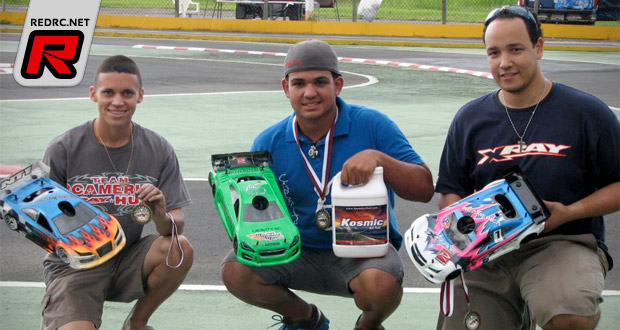 During the past weekend the fifth round of the Puerto Rico Nitro On Road Series (NOS) was run at the Barceloneta RC Track. Andy Báez took TQ with 19 laps in 7:08.333 but the sedan main was to be full of drama. Andy took the lead from the start of the race followed closely by José Martínez, but a mistake in the pits saw Baez fall to four position. During that time Juan Rodríguez took the lead but a flame out took him to fourth. Baez was able to recover even with just one gear to the first spot, but lost both gears in his MTX5, taking out of the race and giving young Capricorn driver Franco Machado the win.
1. Franco Machado – 77L 30:23:666 (Capricorn)
2. José A. Martínez – 74L 30:19:563 (Xray)
3. Juan C. Rodríguez – 74L 30:21:283 (Xray)
4. Norberto Rodríguez – 72L 30:13:619 (Xray)
5. Andy Báez – 71L 30:05:570 (MTX5)
In the GT class TQ went to Juan Chala with 16 laps in 7:02.786. Chalas took the lead from the beginning of the race and the battle was for second and third position during the 30 minutes race between Zobeida Ocasio and Alejandro Rodríguez.  Zobeida and Alejandro were switching positions the whole race, until two minutes to go Zobeida got nervous and braked in the loop for no reason, giving Rodríguez the opportunity to take the second position to the end of the race. The podium was Chalas in first, Rodríguez in second and Ocasio in third.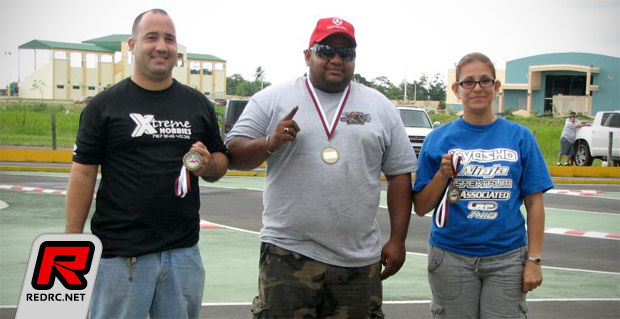 1. Juan Chala – 68L 30:15.028 (DM1)
2. Alejandro Rodríguez – 66L 30:05.274 (MBX6R GT)
3. Zobeida Ocasio – 66L 30:06.856 (GT2)
4. Eric Ortiz – 66L 30:11.054 (DM1)
5. Rene Díaz – 57L 30:19.969 (DM1)
Thanks to Zobeida Ocasio for the report.
---